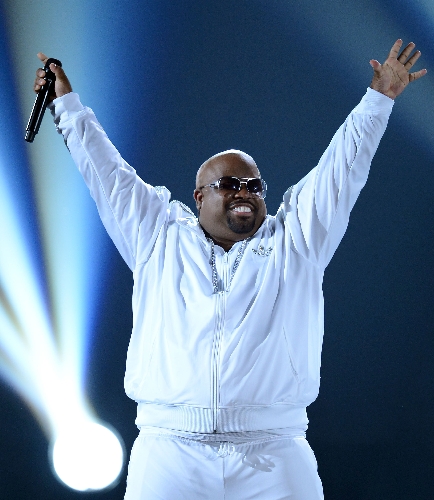 Liberace is hot again, but Las Vegas crowds will have to cool their heels until February for CeeLo Green's Liberace-inspired "Loberace."
The planned Aug. 29 residency opening of "CeeLo Green Is Loberace" at Planet Hollywood Resort has been moved to Feb. 27, it was announced Wednesday.
Offering his "sincerest apology," Green said in a statement that his commitment to NBC's hit TV reality singing competition "The Voice" led to the decision.
The former Gnarls Barkley singer heads one of the competition teams on the show, which is entering its third season. It will be Green's debut as a Las Vegas headliner.
HBO started filming last week on "Behind the Candelabra," which features Michael Douglas as Liberace and Matt Damon as the famed entertainer's longtime partner Scott Thorson. Liberace, a flamboyant Las Vegas icon, died in 1987 of pneumonia caused by AIDS.
The biopic is being directed by Oscar-winning director Steven Soderbergh.
MEDIA UPDATE
PBS has set Sept. 21 for its special on the opening of The Smith Center for the Performing Arts. The $470 million center opened March 10 with a star-studded lineup that included Oscar and Grammy winner Jennifer Hudson, Willie Nelson, Merle Haggard and Carole King. …
Fox News chief White House correspondent Ed Henry is in town to celebrate his 41st birthday with his wife Shirley. He's playing a birthday round of golf at Las Vegas Country Club on Friday with celebrity physician Dr. Joe Johnson, who started his Las Vegas practice on Aug. 16, 1977, the day Elvis died. Johnson, who met Henry at the Manny Pacquiao-Tim Bradley fight on June 9, has also invited former Review-Journal publisher Sherman Frederick to join them. …
Clare Friedland, a senior producer for CBS' "48 Hours," is in town to interview former Clark County Sheriff Ralph Lamb. The interview will likely be at the residence of casino legend Benny Binion or Lamb's former home at Smoke Ranch, near Painted Desert. CBS has a fall season show titled "Vegas" that features Dennis Quaid as Lamb. …
A big thanks to Larry Close, general manager of the Palm restaurant at the Forum Shops at Caesars, for adding my caricature to the celebrity wall. It's on the wall above booth 40. Find illusionist David Copperfield and local legend Thalia Dondero and you're in the neighborhood. …
Glenn Puitt, well-known crime author and former police reporter at the Review-Journal about a decade ago, has been appointed news editor for Record-Eagle in Traverse City, Mich.
SIGHTINGS
Chris Bosh, one of the Miami Heat's Big 3, celebrating his one-year anniversary with wife Adrienne and a group of 20 on Saturday at D.O.C.G. (Cosmopolitan).
THE PUNCH LINE
"It's a great day for America's sweetheart, a great entertainer; David Hasselhoff is 60 years old today. Happy birthday. His friends surprised him by popping out from his chest hair." – David Letterman
Norm Clarke can be reached at 702-383-0244 or norm@reviewjournal.com. Find additional sightings and more online at www.normclarke.com. Follow Norm on Twitter @Norm_Clarke.