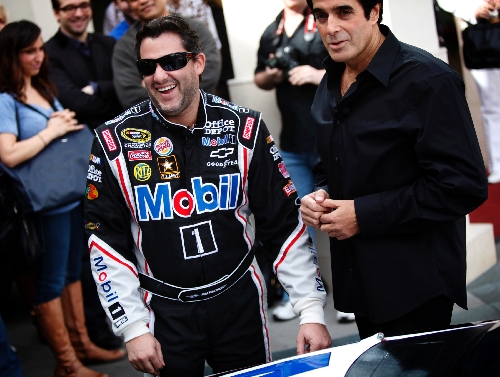 Rao's greeter Robert "Bubbles" Ubriaco was the host with the most. Most connections, best stories and a big appetite for life.
Friends of the big guy will gather Saturday at noon at St. Anne's, 1901 S. Maryland Parkway, to celebrate a life well lived.
He died Feb. 10 at age 65, much too soon, but just as he predicted.
Pushing 400 pounds in recent years, "Bubbles" didn't expect to last much longer.
Back in January 2010, we were seated next to each other in the main room, enjoying Rao's pasta as '60s tunes spilled out of the jukebox.
"Bring me some more marinara … and I want my own cheese!" he reminded a waiter, who knew the drill.
"Bubbles" had a daily ritual. He would come into Rao's and "test" a meatball. He would not share it.
"I was a Chippendale when I got here," he would often say, "and now I'm a Clydesdale."
Between forkfuls of angel hair pasta, he told me, "I've gained 70 pounds in three years working here. I could die tomorrow."
Later, he fired up a cigar while recalling the future stars he hired during his days as a booking agent in New York City and owner of a comedy store. Among the comedians he booked: Joe Pesci, Ray Romano and many others.
A few days after "Bubbles" died, I called Kelly Traina, a former hostess at Rao's who had moved to Las Vegas from California.
"He was like a dad to me," she said. "My father died two months before I got here."
Her part-time job at the popular Caesars Palace eatery became her safety net. But she took another part-time job to pay the bills.
Ubriaco kept encouraging Traina. "He'd say, 'Go for it. I'll fix it up.'
"And he kept saying 'hurry up and get married. I want to walk you down the aisle.' "
The day he died, she was at his side with other Rao's co-workers. A few hours later, when she arrived at her part-time job on the concierge desk at The Cosmopolitan, she was called into an office.
"I was told I was going full-time," said Traina, who was scouting for a wedding venue the day I called her.
He knew everyone, she said, "and he introduced me to everyone I know; people that it would have taken me 20 years to know. He opened the whole world up for me.
"He was so good to me," said Traina, 35, who is getting married next year.
THE SCENE AND HEARD
A lot of you baseball fans out there caught my Don Larsen typo in Wednesday's column, including Summerlin View columnist Herb Jaffe, who would definitely know. A former sportswriter with the Newark Star-Ledger in his early years, Jaffe, who moved here in 1995, said he was the first print reporter to interview Larsen after his perfect game on Oct. 8, 1956. I had the wrong year.
SIGHTINGS
NASCAR star Tony Stewart, drawing a mob of fans at the MGM Grand valet area on Wednesday, while taking an Elvis impersonator, illusionist David Copperfield and unsuspecting fans on faux cab rides in one of his No. 14 race cars. … Steffi Graf, taking in Maureen Peckman's speech at the United Way of Southern Nevada's Women's Leadership Council luncheon at Caesars Palace on Wednesday. Peckman is an executive with Cleveland Clinic Nevada … Former UFC champion Brock Lesnar, at Todd English P.U.B. (CityCenter) with his wife, Rena, aka Sable, a pro wrestling icon. … NASCAR drivers Brad Keselowski and Stewart, taking in the Blue Man Group (Venetian) on Tuesday. Stewart was seen dining at Tao Asian Bistro.
THE PUNCH LINE
"Gadhafi said his people 'love him.' I think that's what he said. It was hard to hear over the rebel gunfire." — David Letterman
Norm Clarke can be reached at (702) 383-0244 or norm@reviewjournal.com. Find additional sightings and more online at www.normclarke.com.