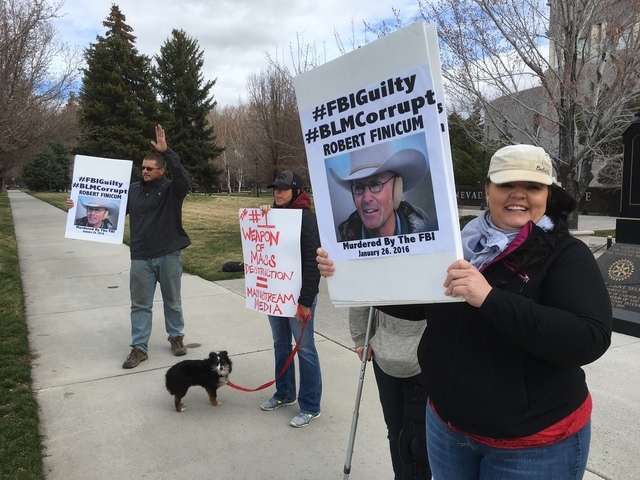 CARSON CITY — About a dozen people protesting the death of Oregon wildlife refuge occupier Robert "LaVoy" Finicum lined Carson Street in front of the Capitol grounds Saturday to bring attention to what one termed the murder of the Arizona rancher at the hands of overzealous federal authorities.
Marki Marius of Milford, Calif., who organized the Carson City protest, held a sign with Finicum's photo and the statement: "Murdered by the FBI January 26 2016."
"We stand strongly behind the ranchers," she said as some drivers honked in support as they drove by. "We are trying to fight the overreach of federal agencies."
Dozens of rallies were planned across the country in memory of Finicum, an armed occupier of the Malheur National Wildlife Refuge in eastern Oregon who was killed by Oregon state police after he and others were stopped at a roadblock.
Finicum was one of the Oregon occupation's leaders along with Ammon and Ryan Bundy, sons of Nevada rancher Cliven Bundy.
He also participated in Bundy's 2014 standoff with federal Bureau of Land Management authorities over the BLM's attempt to remove the rancher's cattle from federal land because of his refusal to pay grazing fees for more than two decades.
One of the goals of the protest is to get state and federal authorities to investigate how Finicum died.
Also at the Carson protest was John Vettel, state director of a group called Convention of States Action that wants state legislatures to call for a convention to consider amendments to the U.S. Constitution.
The group wants to roll back federal authority to its original intent, limit terms of federal elected officials and get federal spending under control, he said.
Contact Sean Whaley at swhaley@reviewjournal.com or 775-461-3820. Find him on Twitter: @seanw801