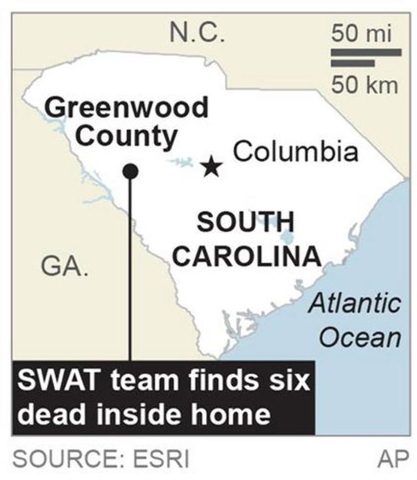 GREENWOOD, S.C. — The sheriff says that six people found dead in a South Carolina home had all been shot in a domestic dispute that ended with the gunman's suicide.
Greenwood County Sheriff Tony Davis identified the man who fired the shots as 27-year-old Bryan Sweatt. Davis says Sweatt had dated one of the women who was killed and had a child with her.
Davis says the victims include the woman, her parents and two children. The sheriff says the shootings looked like executions.
Davis says Sweatt and the woman were in a custody dispute about their infant child. Davis believes Sweatt broke into the home and was waiting for the victims to come back.
This is a breaking news update. AP's original story is posted below. Check back for updates.
GREENWOOD COUNTY, S.C. — Six people were found dead in a home by SWAT team members who came after a man called authorities and said he was thinking about hurting himself.
Authorities found the bodies Tuesday of four adults and two children, including the body of the man they believe called police, Greenwood County Sheriff's Office spokesman John Long told The Associated Press. The ages of the dead ranged from 9 years old to early 50s, Long said. He could not immediately say how the six were killed.
A preliminary investigation indicates the deaths were related to "a domestic-related incident," Long said. He declined to call it a murder-suicide.
Officers first went to the home in Greenwood County after receiving a call from a man who said he was thinking about hurting himself, Long said. He said while police were on their way, one of the man's neighbors called 911 saying four children from that address had arrived at her house and told her a shot had been fired. He said the children remained at her house.
After about an hour and "several unsuccessful attempts" by officers to make contact with anyone in the home, the SWAT team entered and discovered the bodies, Long said.
The county coroner's office did not immediately respond to an email seeking the deceased's cause of death and identities.
Early Wednesday morning, yellow police tape surrounded the one-story home on a rural stretch of road south of Greenwood, a city of about 23,000 in northwestern South Carolina.
———
Associated Press writer Lisa J. Adams in Atlanta contributed to this report.