Gym owners expect good year
January 13, 2013 - 2:05 am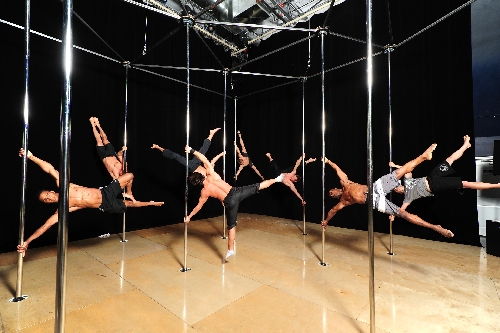 It's the most wonderful time of the year for the fitness industry, and local gym owners are expecting an even better 2013 as more people concentrate on fit over fat.
Over the past few decades, the United States health club industry reached a revenue peak of $21.4 million in 2011. That's more than 50 million memberships across the country, according to the International Health, Racquet & Sportsclub Association.
The Bureau of Labor Statistics shows that employment of fitness trainers and instructors should grow by more than 20 percent through 2020 as the consumer sector continues to grow for sports-related items. The potential for job security is strong as well with a median income of more than $30,000.
The focus is more on creativity and health than traditional fitness techniques at Shine Alternative Fitness. Shine is the collaboration of Dima Shine and Russ Petroni, both performing artists.
"The studio is created by artists for the general public to experience the joy and benefits of artistic trainings, through dance, aerial and a variety of different fitness classes," Shine said. "Although we cater mostly to a beginner level, we do have the opportunity to train highly advanced athletes and artists as our instructors are the best in their fields."
They put an artistic spin on the classes they offer, which includes AntiGravity yoga, Gyrotonic, Pole fitness, aerial instruction and the more mainstream Zumba, kickboxing and hip hop. The classes are often taught by professional performance artists and other A-listers from the industry.
"Half of our instructors are current or former Cirque du Soleil performers; also some of the instructors are current competitors in Pole fitness," she said. "They not only teach at the studio, but also compete in many international competitions. We have national and international champions within our instructors."
Preparation and certification is different for each sector of the fitness industry, from personal trainers to group fitness instructors, and the more specific instructors needed for yoga or Pilates.
The industry is definitely seasonal, and January, February and March tend to be the biggest months for membership sign-ups because of the usual New Year's resolutions to lose weight or get in physically better shape. The chilly, often breezy, winter weather also is a factor in the increase for local gyms as people sign up for mini-memberships or monthly memberships to take advantage of the climate-controlled indoors, even in sunny Southern Nevada.
"The studio is constantly growing. As we are so new and young, we analyze the classes, the schedule and are always looking for new, fun and effective ways to get fit," Shine said. "We do have spots open for hiring; at the moment we are looking for a jump rope instructor."
Those interested in applying for a position with this growing company can email a resume to info@shinealternativefitness.com.
"In potential employees, we are looking for professionalism and experience in their field as much as a personality that shines," he said.
The need for educated, certified and experienced fitness professionals tops the seventh annual American College of Sports Medicine's survey of top 20 fitness trends for the sixth year in a row.
For the first time on the international survey, resistance training, in which the body's weight is used as a form of exercise, has made the top 10, falling in at a solid No. 3 behind strength training. This "back to basics" trend, according to the ACSM, has reached around the world. It can include the traditional forms of yoga, which uses the body to stretch and mold muscles for a leaner, healthier body and focuses on overall health of body, mind and spirit.
Recently, yoga and Pilates studios have begun cropping up around the valley, with one of the more recent being Body Heat – Hot Pilates & Yoga on 8876 S. Eastern Ave.
"Body Heat – Hot Pilates & Yoga has continued to see amazing growth and popularity at our Las Vegas studio," said Jack Langley, co-owner of Body Heat – Hot Pilates & Yoga. "With Body Heat's one-year anniversary on Wednesday, Jan. 9, we are proud to celebrate with our loyal and supportive members who continue to bring in new friends to experience what makes Body Heat so unique and different."
Yoga and Pilates have been around for many years. What has shifted in recent years is their popularity with both women and men and the awareness of their overall benefit to any fitness program, Langley said.
"Many of our classes grow beyond traditional yoga and mat Pilates and add a fitness component to many of our classes," he said. "Our Yoga Sculpt class continues to be very popular due to its mix of strength training and stretching every muscle group. Yoga and Pilates continue to be among the fastest growing segment in the fitness community."
Body Heat offers Hot Practice, in which the studio is heated and provides for a deeper stretch of the muscle fibers and tendons, which can cut down on injuries, according to fans of the intense workout.
"The popularity of 'hot' studios has created an additional awareness and exposure," Langley said. "At Body Heat, we believe in creating an odor-free, spa-like environment for our clients to experience while practicing."
The benefits of the hot classes include better sleep, increased strength and overall reduction in stress and chronic symptoms of disease such as arthritis, Langley said. Local athletes, including UFC fighters and kickboxers, often turn to Langley and his staff of certified instructors to intensify their training and general health.
"Heat has become popular with athletes who notice increased performance by adding yoga and Pilates into their fitness program," he said. "We have professional athletes, MMA fighters, body builders and boxers who are all aware of the tremendous benefits derived from yoga and Pilates. The popularity in hot studios has increased this awareness as well as created a venue of making yoga and Pilates appealing to both men and women."
The studio uses state-of-the-art flooring and eco-friendly materials as well as high-tech equipment to keep the studio sanitized and fragrant free. The young company has big plans for its future as it intends to grow with the nation's fitness trend.
"Aside from building what we believe to be the cleanest and most luxurious hot studio, we take great pride and passion in employing fantastic and passionate instructors who truly change the lives of our students and clients," Langley said. "Creating jobs, building a strong yoga community and adding to the positive change in someone's life is the most rewarding aspect of opening Body Heat last year."
In 2013, Body Heat looks to expand both in Las Vegas and into California as well as exploring other areas and opportunities, Langley said.
And for that they need qualified, and passionate, employees. Anyone who is looking to become a part of the Body Heat team can contact the studio by walking into the storefront at 8876 S. Eastern Ave., Suite 106, by calling 702-432-0028 or by sending a resume via email to info@bodyheatyoga.com.
"We continue to grow and we are always looking to hire new personnel," Langley said. "We offer teacher training programs that provide the skills for those looking to become instructors or who simply want to further their practices."