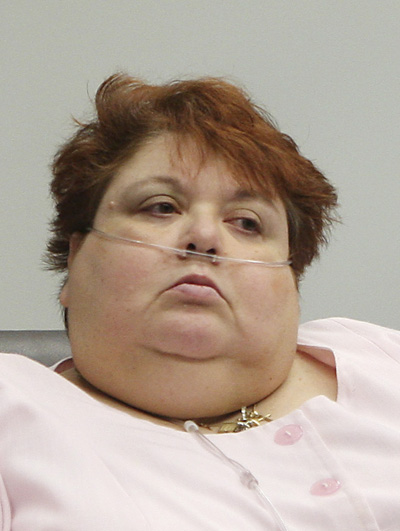 Suspended District Judge Elizabeth Halverson remained at Sunrise Hospital and Medical Center Saturday evening after what police described as an attempt on her life by her husband.
Halverson underwent surgery for skull fractures on Friday, her friend Bobbi Tackett said.
Tackett, who visited Halverson at the hospital today, described her condition as serious. Hospital officials have not acknowledged that Halverson is a patient.
Edward Halverson, 49, according to police, beat her with a frying pan late Thursday.
"She's in terrible pain," Tackett said. "She's hurt very, very badly."
The 50-year-old judge has a tube draining blood out of her head and her eyes are swollen shut from bruises, Tackett said.
"She can't see at all," Tackett said. "She's bruised on her arms, her fingers, everywhere."
Edward Halverson remains at the Clark County Detention Center after being arrested on charges of attempted murder, battery with substantial bodily harm and battery with a deadly weapon.
He has an initial appearance in Las Vegas Justice Court on Tuesday.
Elizabeth Halverson called police at 10:50 p.m. Thursday to report that her husband was beating her and had threatened to kill her, according to police.
Police forced their way into the home, on the 4100 block of Oxnard Circle near Tropicana Avenue and U.S. Highway 95, and found Edward Halverson in the living room. Elizabeth Halverson was found in a rear bedroom with severe injuries.
Edward Halverson has been arrested at least 10 times in various states on charges ranging from cocaine possession to breaking into a house and stealing property. He's served almost four years in prison.
He married Elizabeth Halverson in 1998.
The embattled judge was suspended from the bench in July 2007 and lost her bid for re-election this year.
She is facing a Nevada Judicial Discipline Commission complaint that she mistreated staff, slept on the bench and improperly communicated with jurors.
Elizabeth Halverson's family was in town and her sister stayed with her at the hospital last night, said Tackett, who met the judge in 2001 when the two worked for then-District Judge Joseph Bonaventure.
She is breathing out of a mask, Tackett said, and can barely speak.
"Nobody deserves to be destroyed like that," Tackett said. "The woman's brilliant."
Contact reporter Lawrence Mower at lmower@reviewjournal.com or 702 383-0440