Halverson's husband sentenced to prison for beating her with frying pan
January 14, 2009 - 9:26 am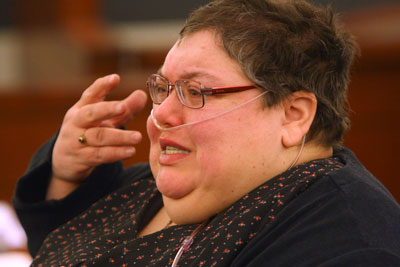 As a judge, Elizabeth Halverson would listen to victims testify in court about how they were hurt in criminal cases. But on Wednesday, she entered a Las Vegas courtroom as a victim herself and said her husband beat her so severely with a frying pan that she still has trouble seeing.
"My life has been totally turned upside down," Halverson said through sobs.
Elizabeth Halverson spoke during the sentencing hearing for her husband, Edward, 49. He was accused of beating the judge at their home near Tropicana Avenue and U.S. Highway 95 in September.
At the end of the hearing, District Judge David Barker sentenced Edward Halverson to spend three to 10 years in prison for attacking his wife.
During the hearing, Edward Halverson said he was defending himself.
"If she didn't pull a knife on me and threaten me, I wouldn't have clocked her," he said.
"When you say clock, that's an offensive word," Barker said. "You didn't clock your wife. You beat your wife."
Elizabeth Halverson appeared in court wearing a straw hat to cover her wounds. She was in critical condition after the attack and spent more than two weeks in the hospital. She needed more than 100 medical staples to help heal the wounds in her head and was also beaten on her arms.
She said she's still recovering from the beating. She can't type because her hand is still injured and she said she has difficulty reading for more than a few minutes at a time because of the pain in her head.
Elizabeth Halverson said she wasn't happy that her husband was offered a plea and objected to the deal. It wasn't fair, she said, since her husband wanted to kill her during the attack.
Elizabeth Halverson's mother agreed, saying the attack wasn't domestic violence, it was attempted murder.
"The way he treated my daughter — like a prisoner," Maria Veimau said. "She's lucky to be alive."
Edward Halverson was initially charged with attempted murder and battery with a deadly weapon causing substantial bodily harm.
In October, he entered an Alford plea to one count of battery with a deadly weapon causing substantial bodily harm. An Alford plea means Edward Halverson doesn't admit wrongdoing but he acknowledges there would be enough evidence to convict him.
The couple have been married for about 10 years.
Edward Halverson has been arrested at least 10 times for various offenses, including drug possession and burglary. He spent almost four years in prison.
Elizabeth Halverson took the bench in early 2007. Soon after she began serving, she was accused of harassing staff and mishandling trials, among other charges.
The Nevada Judicial Discipline Commission removed her from the bench in November and permanently barred her from serving as a judge again.
Contact reporter David Kihara at dkihara@reviewjournal.com or 702-380-1039.