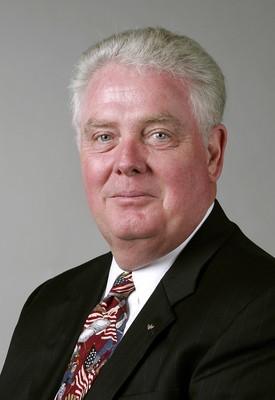 John Hambrick, the chairman of the Clark County Republican Party, announced Tuesday that he plans to run for the state Assembly in the western Las Vegas district currently represented by Republican Garn Mabey.
Mabey, a medical doctor who recently was ousted as Assembly minority leader, confirmed Tuesday that he will not run for re-election.
Hambrick, a retired Secret Service agent, said he would not have run against Mabey.
"I've been wanting to run for a long time, but I would not run against an incumbent," he said.
The 62-year-old Hambrick retired with his wife to Las Vegas in 2000. He has headed the county GOP since 2005. He said Tuesday that he would not immediately step down from that volunteer post but would relinquish it before the election.
Hambrick previously ran unsuccessfully for Las Vegas City Council. He said his focus if elected to the Legislature would be on youth issues, noting that he serves on the state Juvenile Justice Commission and has been involved with Little League baseball for 32 years.
Assembly District 2's active voters are 45 percent Republican and 36 percent Democratic, according to the latest figures from the Clark County Election Department. In 2006, Mabey defeated a Democrat and an Independent American Party candidate to win with 52 percent of the vote.
Although Hambrick is first out of the gate to announce his candidacy, another Republican said Tuesday that he also might run. Mark DeStefano, the Republican nominee for state treasurer last year, said he was contemplating it and would make a decision in December or January.
"I think John's a good guy," DeStefano said. "My decision will be based on whether I think it's the right thing for me to do."
Mabey, a three-term assemblyman, said he wanted to spend more time with his patients and family for now but hoped to seek political office again in the future. "It was a great experience, and I hope to do it again," he said. "It's time to let somebody else serve. But later on, I want to serve again, when the kids are older and my practice is older."
Mabey said he will wait to endorse a successor until he sees who decides to run.