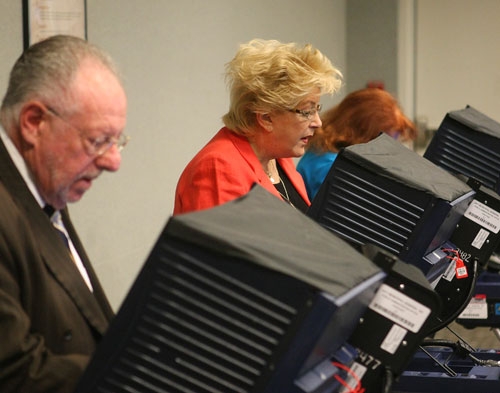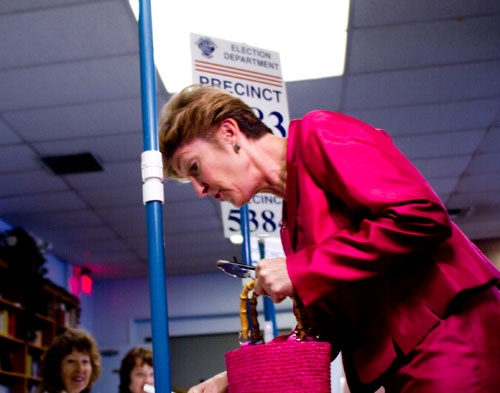 Today is municipal general election day in Southern Nevada, which means that a relative handful of eligible voters will pick a new mayor and council member in Las Vegas while voters in North Las Vegas, Henderson and Boulder City also go to the polls.
The cities now have the power, though, to move their elections to coincide with federal, state and county votes held in even-numbered years.
State lawmakers passed the change this year. Many people have lobbied for it to boost participation and save cities the expense of organizing a separate election every other year.
Las Vegas spends an estimated $1 million on its city election for a voter turnout in the range of 10 percent to 20 percent.
Mayoral candidates Carolyn Goodman and Chris Giunchigliani have both said the city should make the switch.
"It's long overdue," Giunchigliani said. "City Council members should not be picked by a couple of thousand people."
The change should "absolutely" be made, said Bob Coffin, a candidate for Ward 3 on the Las Vegas City Council. He sponsored unsuccessful legislation to do so when he was in the Nevada Legislature.
Coffin noted the Legislature meets during the time period that city elections take place.
"There's no way the news of the election can dominate over the Legislature," he said.
Coffin's opponent, Adriana Martinez, said the change would help with "voter fatigue," because many people tune out politics after the November general elections though that's when local contests are starting.
"One way the city can make a difference and save money is to hold elections in even years," Martinez said. "We have such low voter turnout, it just makes sense."
Election day
Polls will be open from 7 a.m. to 7 p.m. today. Anyone in line to vote at 7 p.m. will be allowed to cast a ballot.
In addition to the mayoral and council contests, Las Vegas voters will pick two municipal judges.
In Department 3, George Assad is being challenged for his seat by attorney Heidi Almase. Department 2 is an open seat, and prosecutor Susan Roger, wife of District Attorney David Roger, is competing for it against Sonny Bonaventure, a public defender who has a father and a brother who are judges.
Henderson voters have one race: a City Council campaign in Ward 4 with Sam Bateman, an attorney and planning commissioner, facing Mike Mayberry, the city's former police chief.
North Las Vegas has two council races and a municipal judgeship on the ballot:
■ Ward 4 incumbent Richard Cherchio is trying to hold on to his seat against Wade Wagner, a dentist.
North Las Vegas' public safety unions have targeted Cherchio because of his votes in favor of public safety spending cuts.
■ Ward 2 has Pamela Goynes-Brown competing with Lisa Meisenheimer for an open seat. Goynes-Brown, an assistant principal, is the daughter of Theron Goynes, who served on the council for two decades. Meisenheimer is a property manager.
The North Las Vegas District 1 judge's race has attorney Marsha Kimble-Simms facing Catherine Ramsey, a North Las Vegas deputy city attorney.
There are no candidates on the ballot in Boulder City because those races were decided during the April primary.
There are six ballot measures, though, on subjects including buying police cars and ambulances and making the city attorney job an elected post.
Contact reporter Alan Choate at achoate@reviewjournal.com or 702-229-6435.
ELECTION DAY
WHERE TO VOTE
Registered voters can cast ballots today in Las Vegas, North Las Vegas, Henderson and Boulder City.
Polls will be open from 7 a.m. to 7 p.m.
For questions about voting or to report problems, call 455-VOTE (8683).