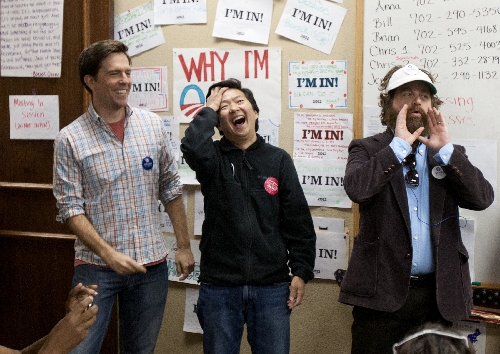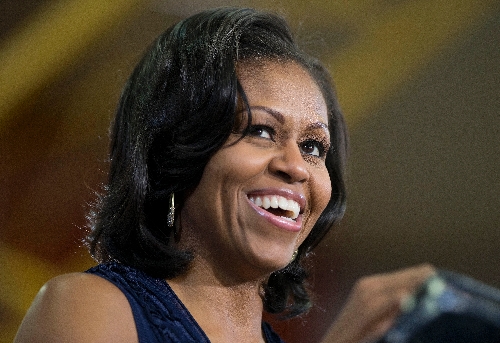 The bad boys of "The Hangover Part III" were on their best behavior at first lady Michelle Obama's campaign stop Friday at Orr Middle School .
In town for filming, Ed Helms, Zach Galifianakis and Ken Jeong stood off to the side out of view of most attendees.
They were seen backstage mingling with and taking photos with Rep. Shelley Berkley, D-Nev., and former U.S. Rep. Dina Titus.
MEDIA NOTES
Former Las Vegas publicist Steve Honig has resigned as Lindsay Lohan's publicist after a turbulent year and a half. He repped Zowie Bowie before their breakup. …
"Vegas" stars Michael Chiklis and Carrie-Anne Moss, with former Clark County Sheriff Ralph Lamb, will attend the Vegas magazine party Tuesday. …
UNLV grad Richard Hudock has joined the Smith Center for The Performing Arts after three years as PR coordinator at The Venetian and Palazzo. …
Longtime Los Angeles sportscaster Rich Marotta announced this week he is establishing a Nevada Boxing Hall of Fame in Las Vegas. …
Veteran local publicist Norm Johnson has been retained by guitarist Esteban, who recently performed at the Smith Center. Johnson, who created the Mint 400 Off-Road Race, has worked for Robert Goulet, Lola Falana and Mary Wilson, among others.
THE SCENE AND HEARD
Chef Carla Pellegrino is out of her partnership with the Tropicana after 19 months. The terms call for Bacio to remain open with her menu and chefs trained by Pellegrino, who left Rao's a couple of years ago to explore new horizons.
The announcement late Thursday came hours after word that she was opening the Meatball Spot in the former Nu Sanctuary space at Town Square.
She opened Bratalian in Henderson to rave reviews last year. …
UNLV baseball great Matt Williams is likely to be interviewed for the Colorado Rockies managerial position, according to The Denver Post. …
Gladys Knight and Clint Holmes share the stage tonight with musically inclined local physicians at the 18th Serenades of Life-Doctors in Concert at The Smith Center for the Performing Arts.
The lineup of doctors includes a group called Alter'd Ego. The Reynolds Hall event benefits Nathan Adelson Hospice's Bonnie Schreck Memorial Complementary Therapies Programs. Information: 702-749-2000.
SIGHTINGS
Actor Michael Douglas, having a tapas lunch with two friends at Julian Serrano Restaurant (Aria at CityCenter) on Friday. He's in town for a month-plus of filming for "Last Vegas" with Robert De Niro, Morgan Freeman and Kevin Kline. … Michael Phelps, taking a fall at XS (Encore) on Monday while crowd surfing when revelers lost their grip on the board. A TMZ.com spy caught it on video. … Nicolas Cage, on his cellphone while his wife, Alice, did the ordering at Casa Don Juan on Wednesday. … George Romero, the legendary producer and director known as "The Godfather of Horror," greeting fans at the Fright Dome (Circus Circus) on Thursday. He's best known for "Night of the Living Dead" and "Day of the Dead." Romero lent his name to one of Fright Dome's five haunted houses, "Ward of the Dead," the first time he has partnered with a haunted attraction. … Wayne Newton, serving as guest judge after his surprise appearance at Kirvin Doak Communications' Halloween costume party.
THE PUNCH LINE
"President Obama flew to a rally in Las Vegas (on Wednesday) night. However, he did not visit any of the casinos. You know why? When you're $16 trillion in debt, they don't let you in." – Jay Leno
Norm Clarke can be reached at 702-383-0244 or norm@reviewjournal.com. Find additional sightings and more online at www.normclarke.com. Follow Norm on Twitter @Norm_Clarke.