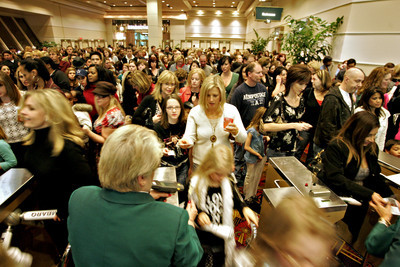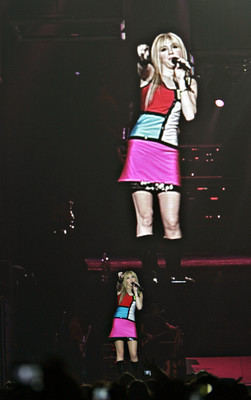 Eyes as big and shiny as the luminous, multi-tiered stage before her, 9-year-old Madison Kleine screamed like she'd just discovered the boogeyman beneath her bed.
Hannah! Montana! Every utterance ending in a series of exclamation points.
And with that, the venue began to rumble like it was positioned upon an angry fault line.
Ever heard 10,000-plus young girls shriek in unison?
Well, you'd be lucky to ever hear anything again.
And so it was on Friday night as 15-year-old Miley Cyrus and her rock star alter ego Hannah Montana held court for the first of three shows at a packed MGM Grand Garden.
The place was overwhelmed with 'tween girls in sparkly headbands, bouncing around like adrenalized jumping beans, and young kids perched atop dad's shoulders, brandishing homemade "Miley Cyrus Rocks" signs made out of bright pink poster board.
Propelled by the hit Disney TV show bearing her name, which attracts 5 million viewers a week, Hannah Montana has become a pre-teen phenomenon, and her "Best of Both Worlds Tour" is one of the hottest tickets in recent memory.
The tour raked in $36 million last year, making it the 15th top grossing tour of 2007, even though it launched in mid-October and ticket prices were far lower than other big-name acts such as Kenny Chesney and Bruce Springsteen charge.
The success of the tour isn't hard to divine: to kids, Hannah's cool; to parents, she's refreshingly tame compared to many of her more salacious pop counterparts.
On Friday, she even closed the show by performing a song with her dad, country singer Billy Ray Cyrus.
"I think she's one of the few decent role models we have for kids. Look at Britney," said April Kleine, mother of Madison, who drove to the Vegas show from Apple Valley, Calif. "I don't have to worry when she listens to Hannah Montana."
Still, Cyrus' set at the MGM carried a bit more edge to it than the average family attraction.
She stormed the stage with her fist in the air, first as Hannah Montana, backed by a raucous five-piece band that packed a surprising punch with growling guitars and a hard-hitting drummer sporting a Motorhead T-shirt.
There was enough pyro going off to rival a fireworks store set ablaze, and Cyrus even threw on a black leather jacket and belted out a loud version of Kiss' "Rock and Roll All Nite" during the end of the Hannah Montana portion of the show.
Her young fans, many of them taking in their first concert, seemed awed after the show and a little dazed by the experience.
"I like her TV show. I think she's a good singer," noted Monica Barett, 11, of Las Vegas, matter-of-factly after the concert, attempting to explain Cyrus' popularity.
"It was worth the money," her mom, Tammy, chimed in.
Plenty of parents have had to shell out big bucks to see the "Best of the Both Worlds Tour," creating controversy nationwide as ticket scalping has been so rampant that the attorney generals of Missouri and Arkansas have looked into whether ticket brokers have scored their ducats legally.
Most every show on the tour has sold out in minutes, fostering a heated secondary market for the tickets, with seats fetching thousands of dollars apiece in some markets.
At a Charlotte concert, a single ticket went for more than $2,500. For a show in Uniondale, N.Y., a top bid of $3,479 was paid for a front-row seat.
In Las Vegas, the secondary market was much softer, fueled by overspeculation and three shows (Hannah Montana will perform again today and Sunday at the MGM Grand Garden).
Before Friday's concert, tickets could be had for as little as $14 from some sellers online.
Tickets were still available as of showtime.
But none of this dampened the spirits of the elated kids in attendance.
Cyrus' appeal to them is readily apparent.
On the one hand, she's easy for the 'tweens in the audience to relate to, singing about the trials and travails of high school and the difficulties of trying to catch the attention of that boy who never seems to notice her.
But she's also some teen girl's inner fantasy self come to life.
"I'm unusual, not so typical, way too smart to be waiting around," she sang during a show opening "Rock Star." "Tai chi practicing, snowboard champion, I could fix that flat on your car."
Moreover, every teen engages in that eternal struggle with mom and dad for some measure of independence, and Montana plays directly into that.
She's both self-assertive and safe, a freshly scrubbed, only mildly diffident 'tween role model who both stokes young girls' desire for autonomy and satiates it as well.
But most of all, she strives to be relatable.
"I'm a lucky girl, whose dreams came true," she sang Friday.
"But underneath it all, I'm just like you."
Sentiments such as that caused the girls in attendance to yell so hard, it's a wonder they didn't sell crates of Chloraseptic at the merch booths to soothe all the sore throats sure to be had the next day.
And it wasn't long before the moms joined in as well.
"See that smile?" April Kleine asked near the end of the show, pointing toward her blond, beaming daughter.
"That's why I like Hannah Montana."