Hardy says gridlock, tax laws must change
February 18, 2014 - 1:41 pm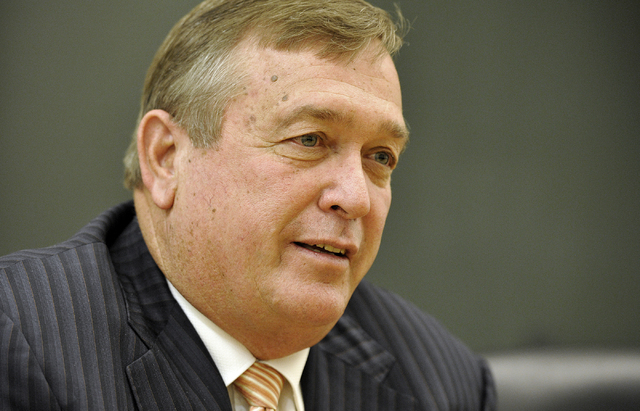 Republican Assemblyman Cresent Hardy on Tuesday officially launched his campaign for Congress, saying he's tired of gridlock in Washington and he wants to promote policies that create more jobs and boost the struggling economy.
"I want to be an element that goes back and does what's right for the people," Hardy said in an interview. He added he wants to "get the economy on the move again so people feel good about themselves and their country."
Hardy, 56, of Mesquite, said it's up to government to create a business-friendly environment by reducing burdensome regulations and changing the tax system to close loopholes for big business while making it fairer for the middle class and the poor. Now, Nevada's 8.8 percent unemployment rate is second highest in the nation behind Rhode Island.
"I think our whole tax structure needs to be re-looked at," he said, noting some big companies pay no taxes because of breaks and loopholes while some people pay 40 percent. "I'm part of the flat tax society."
Hardy, who is in his second Assembly term, is running for the Congressional District 4 seat now held by U.S. Rep. Steven Horsford, D-Nev. Hardy faces a GOP primary against Niger Innis, a civil rights advocate and tea party member who has lived in Nevada for several years. The winner of the June 10 primary will face the freshman Horsford on Nov. 4.
Congressional District 4 covers nearly half the state, from urban North Las Vegas and rural Clark County to parts of Lyon County and all of Esmeralda, Lincoln, Mineral, Nye and White Pine counties.
Hardy argued that he is the best person to represent the vast district, partly because he's a fifth generation Nevadan.
"I am the only person in the race who can beat Steven Horsford," Hardy said. "I understand a gamut of issues in the state."
Before he was an assemblyman, Hardy served in various public offices and boards for years, including on the Mesquite City Council, the Regional Transportation Commission of Southern Nevada, the Clark County Regional Flood Control District, the Virgin Valley Water District and the Las Vegas Convention and Visitors Authority.
Hardy was in the construction business for about 20 years but sold out to his business partner last year after the company, hit by the recession, filed for Chapter 11 bankruptcy, allowing a reorganization of debt to keep the company open.
Hardy said Horsford "has done some good things" for Nevada, but in the end follows the direction of President Barack Obama, U.S. Sen. Harry Reid, D-Nev., and House Minority Leader Nancy Pelosi, D-Calif.
"They have taken us down the path of financial ruin," Hardy said. "Is that the direction we want to go?"
The economy, however, after years of recession, appears to be on the upswing in Nevada and nationwide. But Hardy said small business owners are still uncertain about Washington's direction and are reluctant to hire more employees.
Hardy blamed Obama's Affordable Health Care Act for much of the uncertainty, saying it imposed a new unconstitutional tax and mandate on people to buy insurance coverage. He said he favors repealing and replacing Obamacare with a health care system that's run by the states. He said he favors continuing some parts of the new law, including covering adult children up to the age of 26 on their parents' policies and preventing companies from denying coverage based on pre-existing conditions.
"I think it's way outside the limits of the federal government," Hardy said of Obamacare. "I think it's better run at the local and state levels," he added, saying portability from state to state could make policies more competitive and cheaper.
Hardy also weighed in on a number of other issues:
— On gay marriage, he said he is opposed to it based on his religious beliefs. He's a member of the Church of Jesus Christ of Latter-day Saints. He said some members of his expansive family are homosexual.
"I love the individual, but I disagree with the act because that's against my religious beliefs," Hardy said.
— On Internet gaming, he said he backs the Nevada law passed last year to allow online poker but not other games. He said he's worried about children getting access to online gambling beyond the heavily regulated poker sites.
"Say a child got ahold of a credit card. It could devastate a family," Hardy said.
— On immigration, he said he would not have backed the U.S. Senate bill that recently passed because it doesn't do enough to secure the border. But he backs allowing illegal immigrants to gain legal status if they pay fines and penalties. And he backs a path to U.S. citizenship for the children of immigrants who were brought here illegally, or DREAMers.
"We need to start enforcing the laws we have now on the books," Hardy added.
— On minimum wage, he said it should be determined state by state instead of at the federal level. Also he said he'd prefer the wage rises based on increased competition for jobs instead of by mandate. (The minimum wage is $8.25 an hour in Nevada and $7.25 at the federal level. Obama just raised it to $10.10 for new workers on federal contract jobs.)
"These are entry level jobs," said Hardy, who noted he once worked at a gas station for $2.75 an hour, the minimum wage at the time in the 1970s. "I think you need to start people at minimum wage."
— On the debt limit, he said he would not have voted to raise it because he believes the federal government should cut costs to reduce the debt instead of raising it.
"We need to stop spending what we don't have," he said.
— On budget cuts, he said pork should not be allowed in bills, including in the recently approved farm bill that includes $30 million to create an office to inspect catfish, for example. He also suggested big agencies such as the Education Department provide grants to the states to spend the money as they wish to fit each community.
"Nevada doesn't get back all the money it gives to the federal government," he noted.
If elected, Hardy said he would like to serve on natural resources, transportation and commerce and labor committees. From there he said he could monitor issues such as the federal move to list the sage grouse as endangered, which could hurt the mining, ranching and agriculture businesses in the state. Hardy, who grew up on a ranch, said ranchers and farmers are some of the best land managers in Nevada and land only begins to deteriorate once it's no longer used for grazing.
Contact reporter Laura Myers at lmyers@reviewjournal.com or 702-387-2919. Follow her on Twitter @lmyerslvrj.