Harry Reid's wife fighting breast cancer
September 30, 2011 - 10:17 am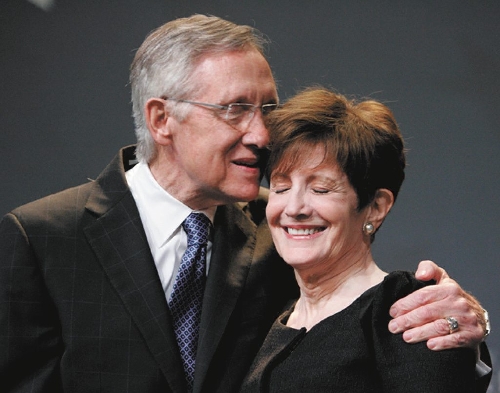 WASHINGTON — Landra Reid, the wife of Sen. Harry Reid, D-Nev., has been diagnosed with Stage 2 breast cancer, the senator's office said Friday.
Landra Reid, 71, is receiving treatment in Washington, D.C., which includes chemotherapy. She was diagnosed "recently," Reid spokesman Zac Petkanas said.
"Senator and Mrs. Reid appreciate the thoughts and concerns expressed during this time," Petkanas said in a statement. "They ask that they be afforded the respect and privacy that any family would want."
Breast cancers are classified on a scale of 0 through 4, with Stage 0 describing a noninvasive cancer and Stage 4 describing invasive cancers that have spread to other parts of the body, according to Breastcancer.org.
The five-year survival rate for Stage 2 breast cancer is 88 percent, according to the National Breast Cancer Foundation.
Stage 2 breast cancer is divided into subcategories, depending on the presence of a tumor in the breast, its size and whether cancer cells have spread to the lymph nodes under the arm, according to Breastcancer.org.
Reid's office did not provide further details of the senator's wife's diagnosis or treatment. A Reid aide said that while Reid "will be at Mrs. Reid's side throughout this process," the diagnosis will not affect his work as senator or as Senate majority leader.
The Reids were high school sweethearts, and he has described her as his closest confidante. They have been married 52 years and have a daughter, four sons and 16 grandchildren.
In March 2010, Landra Reid and daughter Lana Barringer were injured when their minivan was rear-ended by a tractor-trailer outside Washington.
Landra Reid was hospitalized and recovered after undergoing surgery to stabilize a fracture in her neck. She also broke a bone in her back and suffered a broken nose.
In 1988, she was hospitalized at UCLA Medical Center with a gastrointestinal disorder that Sen. Reid has said sparked his advocacy of women's health issues.
Rep. Shelley Berkley, D-Nev., said Landra Reid will conquer the disease.
"Landra and I have known each other since I was in high school," Berkley said. "I know she has great personal strength and the heart of a lioness. She has already met many challenges in her life, and I have no doubt she will tame this disease and have a successful recovery."
Sen. Dean Heller. R-Nev., said: "Having known Landra, Senator Reid and their children for many years, I want to wish the Reid family my best. Landra is a kind person with a strong will and loving support system."
Peter Urban of the Stephens Washington Bureau contributed to this report. Contact Stephens Washington Bureau Chief Steve Tetreault at stetreault@stephensmedia.com or 202-783-1760.