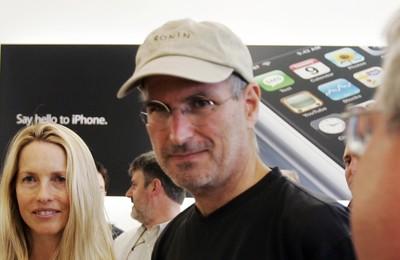 Even after waiting 12 hours to snag two new $599 iPhones, Bobby Robertson had more waiting to do.
He had to get home and go online to activate the electronic device before he could call anyone.
Robertson was tired but excited when he emerged shortly after 6 p.m. from the Apple Store at the Fashion Show mall with the two iPhones extended above his head.
"I know this product is going to be phenomenal," he said.
Robertson was one of the thousands of people nationwide who lined up early Friday to be sure they got one of the new gadgets.
He arrived at Fashion Show at 6 a.m. to try to secure a place at the front of the line outside the Apple Store, only to be run off by mall security.
Still, the former Apple Store employee, who was wearing a gray T-shirt with the white Apple logo, managed to beat other technology enthusiasts when he returned 1 1/2 hours later to claim his place at the front of the line.
"If I wasn't first in line, I wouldn't have wasted my whole day here," said Robertson, a senior mortgage consultant for Legacy Financial. "It's pretty fun to be first for something like this. It's really big. Apple hasn't done something like this since the Macintosh in 1984."
The new iPhone went on sale at 6 p.m. Friday after six months of marketing buildup.
Jim McMichael, senior marketing manager for the Fashion Show, estimated approximately 700 people had gathered by 6 p.m.
Another 200 were estimated to have gathered in front of the store and along the second floor railing to watch the spectacle.
McMichael said security personnel for Fashion Show and Apple Inc. spent the past few months coordinating the release to make sure it would run a smooth as possible.
"It's revolutionary," said Robertson, who had been awake since 4:30 a.m. "There has been no phone ever like it before. Every time Apple releases something it's so far away from whatever else is out there. The phone itself, nothing is going to touch it for a while."
The largely male crowd of Apple devotees had grown to about 150 people by 11 a.m., most sitting on the ground working on laptop computers or playing hand-held video games.
Store employees declined to comment on how many people they expected or how many phones were in stock, referring all questions to Apple's corporate offices.
John Stuehling, fifth in line and wearing a black T-shirt with the white Apple logo and the phrase "mac daddy," said he plans to use the new device to watch movies, videos and for online banking.
"For my purposes this phone replaces my phone, my iPod and my laptop," said Stuehling, a casino pit boss at South Point. "For the things I use my laptop for, this phone can replace all that."
Wesley Hollero, a resident disc jockey at Pure Nightclub at Caesars Palace and the third person in line, said having the Mac platform on his phone will enable him to organize his work better.
"I am probably the most organized dj," said Hollero, who works under the name DJ Konnex. "I'll be able to transfer music and use it as a hard drive."
While technology writers and industry analysts have raised various concerns about the new iPhone — ranging from whether Cingular's EDGE broadband network will be able to efficiently and quickly handle Web traffic to what kind of battery life will the iPhone have with its music and video features — the customers at the front of the line brushed off such worries.
"There is no product that is perfect," said Stuehling, an Apple customer for six years. "But even if there are issues they have the best people supporting. There is always going to be resolutions."
Robertson did have some reservations because of some of the stipulations attached to the phone, such as being required to sign a two-year contract while paying the full $499 or $599 price for the phone, do bother him.
"I've waited so long for the phone that I'm willing to go ahead and agree to it like most people are," Robertson said. "It's corporate America. What do you expect? It's money."
The gadget, which Apple CEO Steve Jobs has touted as "revolutionary," has been the focus of endless anticipatory chatter and has been parodied on late-night TV. Since its unveiling in January, expectations that it will become yet another blockbuster product for Apple has pushed the company's stock up more than 40 percent.
Apple itself has set a target of selling 10 million units worldwide by 2008, gaining roughly a 1 percent share of the cell phone market.
It's expected to go on sale in Europe later this year and in Asia in 2008.
The handset's price tag is $499 for a 4-gigabyte model and $599 for an 8-gigabyte version, on top of a minimum $59.99-a-month two-year service plan with AT&T Inc., the phone's exclusive carrier.
Apple has not disclosed how many iPhones were available at launch. But analysts expect it will sell out by early next week — between sales rung up at retail stores and online through Apple's Web site, which has been a major distribution outlet for other Apple products.
The Associated Press contributed to this report
FEATURES OF THE NEW IPHONES • Suggested retail price: $499 or $599 • Dimensions: 4.5 x 2.4 x 0.46 in. • Weight: 4.8 oz. • Talk time: Up to 8 hours • Built-in memory: 4 or 8 GB • Camera: 2.0 megapixels • Wireless networks: Wi-Fi, Edge, Bluetooth • Keyboard: Virtual • Operating system: Mac OS X • Carrier: AT&T • Monthly plan costs*: $60-$220 *Vary by location, minutes, features Source: Apple, AT&T, ©2007 MCT