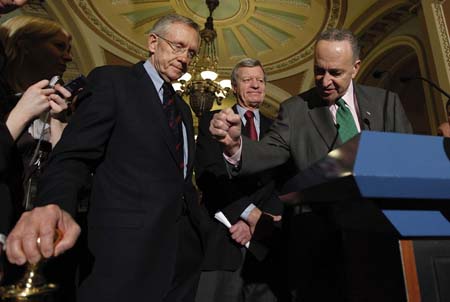 WASHINGTON — Although a number of senators were granted special favors in the health care bill approved by the Senate today, there are no earmarks in the 2,074-page measure for Nevada, according to a spokesman for Sen. Harry Reid, D-Nev.
"Frankly, this entire bill is about Nevada as the state has the second highest rate of uninsured in the nation," said Jon Summers.
Families USA, a health care advocacy group, said in a report this week that 313,000 Nevadans would gain insurance coverage by 2019 under the bill.
Fewer uninsured means fewer patients seeking free emergency room treatment at public hospitals like the cash-strapped University Medical Center, Summers said.
So enabling more people to buy insurance "addresses a major fiscal issue facing the state, while addressing the moral obligation of making sure people can see a doctor when they need one," he said.
Among provisions in the bill is a version of legislation Reid sponsored in May to increase Medicare funding for graduate medical residencies. Democrats hope that will eventually boost the population of primary case physicians that might be lured to states with doctor shortages.
Reid tried to secure a Nevada bonus in September but changed it after other senators demanded the same benefit.
With the health care bill calling for an expansion of Medicaid, he arranged for Nevada, Michigan, Rhode Island and Oregon — states with high unemployment — to receive five years of full funding to pay for the patients who would be added.
After Republicans griped and other senators inquired about getting similar treatment, Reid changed the language so that all states would be given three years of full funding for Medicaid expansion. After that the federal government would pay between 80 percent and 84 percent, with individual states kicking in the remainder.
Contact Stephens Washington Bureau Chief Steve Tetreault at stetreault@stephensmedia.com or 202-783-1760.