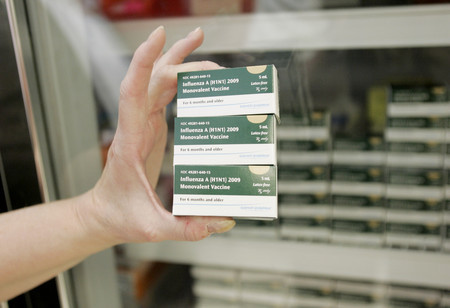 The Southern Nevada Health District has received its first delivery of injectable 2009 H1N1 influenza vaccine, which will be available initially to members of the CDC-recommended priority groups deemed most at-risk for severe illness or complications.
District spokeswoman Stephanie Bethel said the first clinic that will offer injectable vaccine and the inhaled FluMist is scheduled between 10 a.m. and 6 p.m. Saturday at the health district's main public health center, 625 Shadow Lane.
A dozen or fewer of the 550 emergency first responders with the Las Vegas Fire Department received the inhaled vaccine last Saturday, a sign they were concerned about potential problems accompanying a vaccination involving a weakened live virus, an official said earlier this week.
Tim Szymanksi, a fire department spokesman, said he, too, was leery of a live virus and predicted that most department personnel would wait for the shot, which does not carry a live virus.
The government has agreed to allow immunity to drug companies who make the vaccines should problems occur, a topic that has been brought up recently on radio talk shows. When problems arose with the 1976 swine flu vaccine, thousands of lawsuits were filed by people who said they suffered a paralyzing condition called Guillain-Barre Syndrome or other side effects.
But Paul Rheingold, a New York City-based attorney who represented 25 clients on swine flu vaccination cases, recently told the Review-Journal he would not be afraid to take a new vaccine for swine flu today.
"I view what happened as a one-time thing," he said.
Public health officials repeatedly have said the inhaled vaccination is safe, pointing out that vaccinations for chicken pox and measles both contain live virus.
To date, the health district has received approximately 48,000 doses of the H1N1 vaccine, including the initial FluMist delivery of more than 20,000 doses. So far, the health district has administered 1,272 vaccinations.
The vaccine that will be offered Saturday is free.
The CDC priority groups eligible to receive the vaccine at this time include the following:
• Pregnant women.
• People who live with or care for children younger than 6 months.
• Health care and emergency medical services personnel with direct patient contact.
• Children 6 months through 4 years old.
• Children 5 through 18 who have chronic medical conditions.
Starting Monday, the health district will continue to offer both types of the vaccine daily between the hours of 10 a.m. and 6 p.m.
Contact reporter Paul Harasim at pharasim@reviewjournal.com or 702-387-2908.