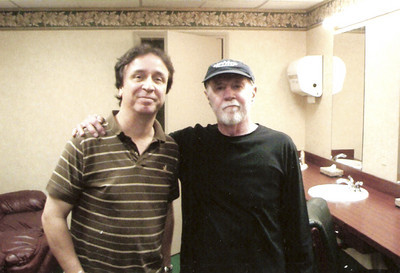 Comedian Dennis Blair opened for George Carlin more than 3,000 times, including Carlin's finale four weeks ago today at The Orleans.
About three years ago, Blair witnessed a scary moment.
Carlin "couldn't catch his breath on stage."
It was around that time that Blair detected a change in Carlin's personality.
"He was suffering. That's when his heart problems started getting bad. He wasn't the same George.
"His moods started getting cloudier. He would barely say hello backstage. I got the impression he knew he didn't have much time left," said Blair, who did about 150 dates a year with Carlin for 18 years.
Before that, "he'd always be goofin' around, upbeat," said Blair.
Carlin died June 22 in Los Angeles of heart failure at age 71.
Blair is convinced that Carlin was with some special friends after his last show.
"I got the impression there was an Air Force connection; friends he knew for a long time," he said.
Blair cherishes the memories of taking 90-minute car rides with Carlin to gigs.
"In 2003, he went through a period when he was taping impressions. I recall he was working on Christopher Walken. Not that he wanted to do them on stage. He just needed another challenge."
Hecklers didn't have a chance with Carlin.
One night, he took on the whole audience, said Blair, when Judy Tenuta opened for him and "ran off the stage in tears."
"George told me he went off on the audience for the first 10 minutes of his show."
Blair was working with Carlin when his wife, Brenda, died after a long illness.
During a memorial for her, Blair said the only thing he remembers was when Carlin, an avowed atheist, said, "If there is a God, he'd better be on his toes with Brenda up there."
THE SCENE AND HEARD
Look for an announcement soon: Jessica Simpson will perform at the fifth "Nina's Night Out," a benefit founded by TV personality Nina Radetich. Simpson will perform at the Sept. 18 event at The Pearl at The Palms. Radetich, who recently joined KTNV-TV, Channel 13 as an evening anchor, is partnering with the Palms and Coyote Country KCYE-FM, 104.3. All proceeds will go to The Rape Crisis Center. Tickets will go on sale at 1 p.m. next Saturday. … An invite-only Miss Universe screening party is being held today in the Newport Lofts' 24th-floor Sky Deck lounge. I hear there's going to be a big announcement at the end of the pageant, which is being held in Nha Trang, Vietnam. … Just asking: Whatever happened to Chrissy Mazzeo? She's dropped off the radar since taking a public-relations pounding after accusing Jim Gibbons of making sexual advances in the final weeks of his 2006 gubernatorial campaign.
SIGHTINGS
Tim Duncan of the San Antonio Spurs, with his wife, Amy, and another couple, enjoying the view at the Voodoo Lounge (Rio) after dining at Voodoo Steak on Friday. … ABC talk-show host Jimmy Kimmel and Quinton "Rampage" Jackson at Nove Italiano (Palms Fantasy Tower) on Friday. … Dallas Mavericks owner Mark Cuban, checking out Moon (Palms) and Tryst on Friday. … At Poetry (Forum Shops at Caesars) on Friday: D.J. Strawberry, NBA players Marcus Banks, J.R. Smith and R&B artist Ryan Leslie performing. … At LAX (Luxor) on Friday: former Pittsburgh Steelers quarterback Kordell "Slash" Stewart and Cincinnati Bengals wide receiver T.J. Houshmandzadeh. … Roseanne Barr, dining at Capo's Restaurant on Thursday while being serenaded by crooner Bobby Liguori.
THE PUNCH LINE
"The Democratic Party announced this week that Barack Obama will give his acceptance speech at an 80,000-seat stadium and that they will not serve fried food at the Democratic Convention. Which begs the question, Where are they going to find 80,000 Americans who don't eat fried food?" — Conan O'Brien
Norm Clarke can be reached at (702) 383-0244 or norm@reviewjournal.com. Find additional sightings and more online at www.normclarke.com.