Hearing in officer's slaying draws crowd
December 3, 2009 - 10:00 pm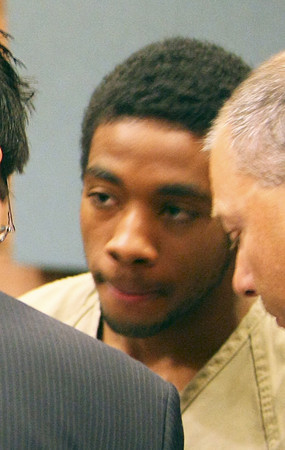 At least 15 detention officers — some armed with assault rifles — lined the North Las Vegas courtroom where six suspects in the slaying of Las Vegas police officer Trevor Nettleton were arraigned on Wednesday.
North Las Vegas Justice Court Judge Stephen Dahl set a preliminary hearing for the suspects, who are charged in connection with the Nov. 19 shooting death of Nettleton during an attempted robbery at his home. The hearing is scheduled for 9:30 a.m. Dec. 17.
The suspects are: Saul Williams Jr., 20; Emmitt Ferguson, 18; Quadrae Scott, 18; Prentice Marshall, 18; Adrian Pena, 17; and Michael Ferguson, 25.
Emmitt Ferguson and Michael Ferguson are half brothers, according to North Las Vegas police.
None of the men spoke. Their attorneys huddled with Dahl before the hearing date was set to ensure there would be no scheduling conflicts.
Although the suspects were present only for several minutes, their appearance packed the courtroom.
Family and friends of the suspects clustered on the left side of the courtroom. On the right side, about 20 Las Vegas police officers sat in on the proceeding.
The armed detention officers were present to deter any rowdy behavior, said one of the officers. Police have alleged that some of the suspects have gang ties.
On Nov. 19, Marshall, Pena, Williams and Scott were in Pena's car and were going to Williams' house when they saw the garage door of Nettleton's North Las Vegas home open, an arrest report states Williams told police. Nettleton, who had just finished his patrol shift, was inside.
During the attempted robbery, a gunbattle ensued. Marshall was shot in the testicles, according to the reports, and Nettleton was shot and killed by Marshall.
The funeral for Nettleton, who is survived by a wife and two young children, was last week.
Members of Marshall's family declined to comment Wednesday.
Pena, Williams, Scott and Marshall are being held without bail on charges of first-degree murder, robbery and conspiracy to commit robbery.
Emmitt Ferguson, who wasn't at the scene of the crime but who police allege hid the weapon, was charged with accessory to murder. His bail was set at $500,000.
Michael Ferguson was already in custody at the North Las Vegas Detention Center on unrelated domestic battery charges. He now faces a charge of accessory to murder after the fact.
The Ferguson arrests were the result of an effort by police to identify those who tried to cover up evidence related to Nettleton's slaying, police said.
Contact reporter Mike Blasky at mblasky@reviewjournal.com or 702-383-0283.