Heart patient to contribute to stem cell therapy research even after death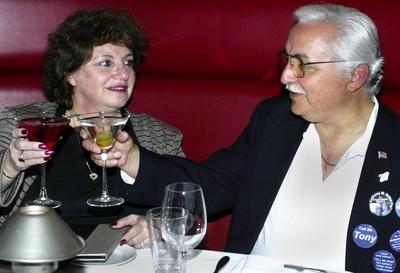 Last Tuesday around 10:15 p.m., Mildred Salas heard the garage door open. Tony, the love of her life for 24 years, was home.
She called out his name.
There was no answer.
When she rushed into the garage, the 60-year-old man who could laugh about having been hospitalized around 40 times for heart trouble was slumped over his moped.
"His heart finally gave out," Mildred Salas said.
But the heart of Anthony Salas, according to a researchers, could provide leads in the battle against cardiovascular disease.
"I'm donating Tony's heart to science," Mildred Salas said. "Tony wanted to help make sure other people didn't have to go through what he went through."
In July 2004, Salas became part of an experiment known as "Injection of Autologous CD34-Positive Cells for Neovascularization and Symptom Relief in Patients with Myocardial Ischemia." That is better known, by patients and doctors alike, simply as "stem-cell therapy."
"What we find in Tony's heart may well be very important," said Dr. Richard Schatz of Scripps Green Hospital in La Jolla, Calif. "Tony was part of a very important experiment."
The study, led by Schatz and Dr. Douglas Losordo in Boston, is investigating whether a dose of a person's own stem cells can help the heart grow new blood vessels, which would mean more blood and oxygen would get carried to the heart muscle.
The recurrent pain known as angina is caused by too little blood getting to the heart muscle. Because of that, researchers, who have seen cell therapy benefit animals, theorized chest pain would be relieved through the growth of new blood vessels.
In 2005, Salas felt so good he ran for Las Vegas City Council. Even though he lost, he was ecstatic about his health.
"I feel like I have a new life now," he said. "I feel great. I don't have any pain, and I don't have to use oxygen any more."
For reasons no one has ever been able to explain, Salas' blood vessels would close down within a month of receiving a stent, a small metallic meshlike tube designed to support plaque-damaged arterial walls after a blockage has been removed.
Salas had 33 stents implanted in addition to triple-bypass surgery.
Researchers will look for clues as to why his own body would turn on him.
Over Memorial Day weekend, Mildred Salas had a private family service for her husband.
"We'll hope and pray that Tony's heart makes other hearts stronger," she said.
Wondering how a local story turned out or what happened to someone in the news? Call the City Desk at 383-0264, and we will try to answer your question in this column.