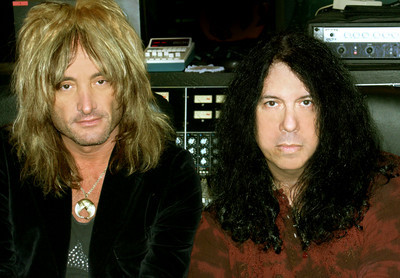 He sang of having a funny face and a dirty mind, a mouth like an alligator's and a penchant for getting wild, wild, wild.
For a time, he was heavy metal's roaring id come to life, a loud, leering agitator who took the genre to the top of the pop charts for the first time.
Early Sunday evening, Quiet Riot frontman Kevin DuBrow, 52, died at his Las Vegas home, silencing one of metal's most distinctive voices.
The cause of death has yet to be determined, awaiting autopsy and toxicology results, and could take six to 12 weeks to determine, said Clark County coroner's spokeswoman Samantha Charles.
Police first arrived at the scene at 4800 Mountain Valley Road in response to a call to check on DuBrow's well-being, Las Vegas police said.
DuBrow was pronounced dead at 5:20 p.m.
"The rock world lost a real character in Kevin DuBrow," said Tony Bonnici, general manager for Las Vegas rock radio station KOMP-FM, 92.3, where DuBrow worked as the morning drive-time host for a year starting in 1996. "He lived that rock 'n' roll world to the extreme."
"Kevin was a wild man, he was fun to be around," added Craig Williams, a KOMP DJ who lived with DuBrow for a time and was co-host of his morning show. "Kevin liked to party and eat good food, stay up late. He was a very strong personality."
DuBrow's larger-than-life presence, razor-sharp tongue and gruff yet tuneful howl helped Quiet Riot become one of the biggest metal bands in the world with their third disc, 1983's "Metal Health." The album sold more than 5 million copies in the United States and spawned a pair of hit singles, the title cut and "Cum On Feel The Noize," a Slade cover that helped take metal into the mainstream.
DuBrow was the group's snarling ringleader, a madman in multicolored suspenders, who founded the group in 1975 with guitar ace Randy Rhoads, before later losing him to Ozzy Osbourne's band. Rhoads died in a plane crash in 1982.
In the wake of commercial success, DuBrow quickly developed a reputation for his hard partying ways.
"I was the last one, pretty much, to stop it," DuBrow told the Review-Journal in 2001 of his past indulgences in Quiet Riot. "You repeat the same action over and over. It was the definition of insanity, doing the same thing over and expecting different results."
Having moved to Las Vegas in 1995, DuBrow got clean and sought to reform his reputation as an arrogant rock star prone to verbally assaulting his headbanging peers, friends said.
"He was aware of his character defects; he was man enough to get sober, and it changed his ways," said Jamie Adler, a Los Angeles-based booking agent who put together the 2004 "Bad Boys of Metal Tour" with DuBrow, former Warrant frontman Jani Lane and Mötley Crüe rocker Vince Neil. "The guy's been sober for years. He was a health fanatic. He ran every day. He'd eat healthy."
Billy Morris, a Cleveland-based guitarist who toured with Quiet Riot and DuBrow's solo band in 2005, agreed DuBrow led a balanced lifestyle.
"He realized that to give the fans a 100 percent show, he had to work his body out, he had to take vitamins and eat good, get a proper amount of sleep," Morris said. "The only time I ever saw him drink was a glass of fine wine after a meal. With Quiet Riot, there was no liquor in the dressing room. I hope that people across the world don't think that this was a rock 'n' roll lifestyle that killed him."
Though Quiet Riot never matched the success of "Metal Health" and DuBrow was fired from the group in the late 1980s, eventually he rejoined, and the band remained a fixture on the road, most recently playing the Henderson Pavilion in September.
Quiet Riot might have been dismissed as one-hit wonders by some, but DuBrow never seemed to mind being labeled an '80s band.
"I enjoy it," he told the Review-Journal in an August interview. "It was an entertaining decade. People went after it for a while. The '90s didn't turn out to be all that great. And so people look back and say the '80s aren't so bad after all."
The same could be said of the man whose voice helped define said decade for millions of longhairs.
"I think Kevin was a happy man and proud of what he'd become over these years," Adler said.
"There's so many people out there who are never able to change. Kevin DuBrow was a man of change. He bloomed into an amazing man."
Contact reporter Jason Bracelin at jbracelin@reviewjournal.com or (702) 383-0476.
ON THE WEB
Kevin DuBrow's MySpace page