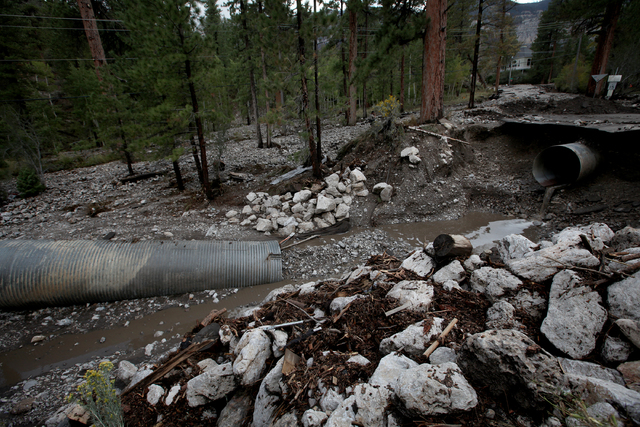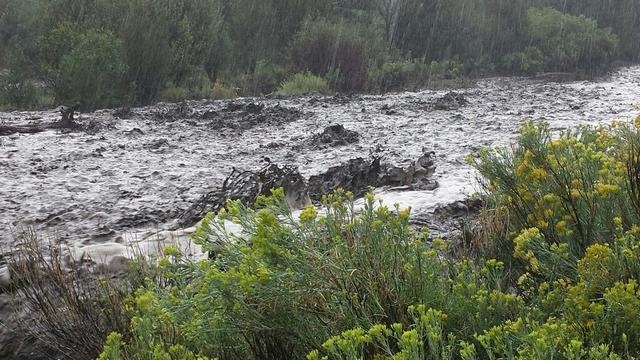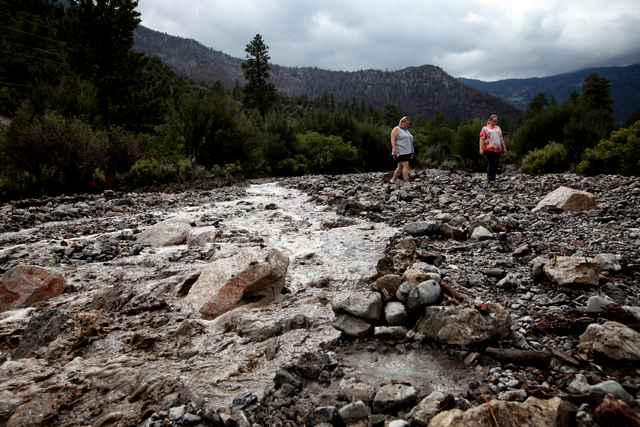 For the second time in a week, heavy rain in the Spring Mountains caused severe flooding Sunday on Mount Charleston and along Kyle Canyon Road.
"There were little channels coming from the streets. It looked like rivers up there," said Carlyn Dilger, who was heading to lunch Sunday afternoon with her father in Kyle Canyon.
Dilger's father, who lives in the Rainbow subdivision, told her there was about five inches of water in his garage and that other residents in the area saw water inside their homes.
The National Weather Service lifted a flash flood watch for Kyle Canyon about 8 p.m. Sunday. The thunderstorm was dumping heavy rain in the Rainbow subdivision and Fletcher View Campground areas.
As of 8 p.m., the National Weather Service had measured 0.96 inches of rainfall in its Kyle Canyon gauge. The Brownstone Canyon gauge, about 2.5 miles northwest of the Red Rock Canyon detention basin, had received 1.42 inches.
Clark County, Las Vegas and Mount Charleston fire departments responded to Kyle Canyon to assist people in areas threatened by flooding, fire officials said. Las Vegas rire spokesman Tim Szymanski said the department had received a 911 call from a resident, saying that several people were trapped by the water in their vehicles and at least one person was trapped on the deck of a house.
A Clark County fire spokeswoman said there was storm and flood damage to numerous homes in the Rainbow Canyon community.
Las Vegas police said 30 residents were escorted down the canyon from their homes because of the floodwaters.
According to American Red Cross spokesman Lloyd Ziel, some resident's were leaving the Rainbow subdivision because of the severe road damage. No shelter was opened by the Red Cross as the residents who left had places to stay in Las Vegas, Ziel said.
The Regional Transportation Commission said State Route 157, or Kyle Canyon Road, was closed because of flooding but re-opened around 4 p.m. Although roads were flooded, crews helped drivers get minimal access through Rainbow Canyon.
State Routes 156 and 158 re-opened around 2:30 p.m. after heavy floods forced their closure, according to Nevada Highway Patrol spokesman trooper Jeremie Elliott. NHP advised people to use those roads only if "absolutely necessary."
As seen throughout last week, the mixture of water, ash and debris from July's Carpenter 1 Fire flowed down from the mountain onto Grand Teton Drive after being caught by the Kyle Canyon detention basin.
The runoff shut down Grand Teton Drive from Grand Canyon Drive to Oso Blanca Road, Las Vegas officials said.
Roads damaged from last weeks' flooding, including Grand Teton Drive from Quail View Street to Rainbow Boulevard, Rainbow Boulevard from Grand Teton Drive to Farm Road and Farm Road from Rainbow Boulevard to Tenaya Way remain closed.
The Lodge at Mount Charleston, at the top of Kyle Canyon Road, was closed for the second straight Sunday because of flooding. Employees at the restaurant are stranded and waiting for floodwaters to recede. General Manager Thomas Schneekloth described the roads near the Rainbow subdivision as "impassable."
State Route 160 northbound at Tecopa Road also closed after flash floods caused mudslides and debris to flow on the road but re-opened a few hours later.
Searchlight and Laughlin were also affected by heavy rains.
Today is expected to be mostly cloudy with a 20 percent chance of isolated thunderstorms in the Las Vegas Valley.
Reporter Annalise Porter contributed to this report. Contact report Steven Slivka at sslivka@reviewjournal.com or 702-383-0391. Contact reporter Colton Lochhead at clochhead@reviewjournal.com or 702-383-4638.