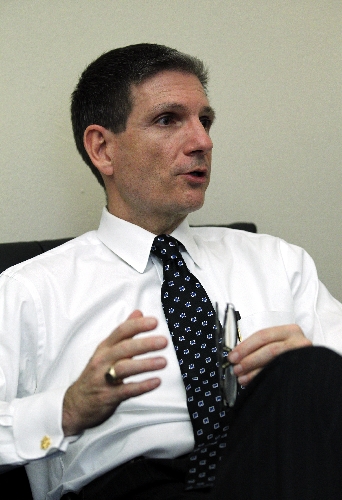 CARSON CITY — Rep. Joe Heck told state legislators Monday that both Democrats and Republicans in Congress are responsible for the economic mess in Nevada and they need to work together in Washington and Carson City to clean it up.
"The recession gripping Nevada is largely the result of a broken federal government," Heck, R-Nev., told a joint session of the Assembly and Senate. "Far too often political expediency trumped sound policy as decisions were made."
Both parties were guilty of overspending and failed to lead, he said.
Heck, a former state senator, emphasized that the federal government and states must control spending for the economy to recover. He pointed to Virginia, which he said dealt with a $2 billion deficit without tax increases and has created 100,000 jobs since 2010.
"Put Nevadans back to work," said Heck, applauding legislative Republicans and Republican Gov. Brian Sandoval for trying to solve Nevada's budget woes without a tax increase.
After the 21-minute speech, Heck told reporters he is not worried about being treated unfairly by legislative Democrats during redistricting hearings as they redraw the boundaries of his 3rd Congressional District as required by law every 10 years.
He said he has not given any input on how he wants the district to look.
Heck also defended the Republican plan in Congress for reducing the national debt. While there have been complaints that the plan will reduce Social Security and Medicare benefits, most people will like the changes, he said.
Without changes, Medicare will go bankrupt by 2027, he said.
"Certainly some people" will receive less in Social Security and Medicare, he acknowledged in response to repeated questions.
Heck said he was criticized by conservatives for supporting the continuation of two federal programs to help people in danger of foreclosure remain in their homes. In one vote, he was the only Republican to support continuation of the program; in the other he was one of two Republicans.
But his support was based on the fact that the programs helped 17,000 people in Nevada. "I will continue to fight government spending in Washington," but never forget "I was elected to help Nevada first," he said.
Heck received applause for that and several other statements, but it seemed to come largely from Republicans, including Sandoval who attended the speech.
Nevada's members in Congress are invited to give speeches to the Legislature.