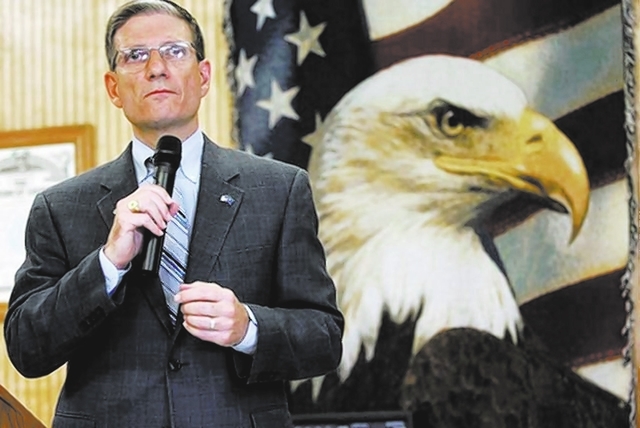 Pressured by Democrats and activists and running for re-election in a district that is home to significant populations of Asian-Americans and Hispanic-Americans, Rep. Joe Heck is plugging away to carve a niche as an advocate of immigration reform.
Heck, a two-term Republican lawmaker, is shopping a draft bill that seeks to grant a citizenship path to young people brought into the United States illegally, the so-called DREAMers who have been among the most vocal reform advocates.
The bill would direct the government to cancel the deportation of those who were in the United States as of Dec. 31, 2011, and who were 15 or younger when they arrived.
Individuals showing they graduated from high school or earned a GED and who are attending college or technical school, have begun an apprenticeship or enlisted in the military and have stayed out of trouble would be able to apply for conditional permanent resident status.
They could achieve permanent resident status when they complete a degree or apprenticeship or serve a full term of enlistment, or have been honorably discharged. At that point they could apply for naturalization.
Heck presented the bill Nov. 25 to a group of about 40 that included representatives of local and national immigration reform groups, labor unions and business and education groups. The meeting took place at the Humana Green Valley Guidance Center in Henderson.
Heck aides contend no other House Republican has moved ahead on a similar DREAM bill, but whether he takes the next step to introduce it in Congress depends on what kind of buy-in he gets from constituent groups. They say Heck has no plans to make additional changes to it.
The GOP-controlled House is not expected to take up immigration bills in the short time remaining in this year's session. The issue is expected to take on prominence in next year's elections, however, particularly in places like Heck's suburban Las Vegas district.
Heck has rejected tackling immigration reform through a single comprehensive bill like the one that passed the Senate in June. But he has scolded Republican leaders for failing to follow through on a strategy to take up piecemeal bills instead.
The Senate's bill addressed border security, hiring rules for employers and the matter of offering a citizenship path to 11 million undocumented residents, rather than just the estimated 1.4 million young DREAMers.
With time growing short, President Barack Obama and immigration reform advocates have said they would accept a piecemeal approach.
The DREAM Action Coalition, a national advocacy group, said it had "reservations" about the December 2011 cutoff date in Heck's bill. But it encouraged him to introduce it in Congress to keep a spotlight on the issue and pressure on Republican leaders.
"While the window to address immigration is closing this year, we must not let the opportunity to pass something swiftly escape us yet again," said a statement from Cesar Vargas, coalition director. "Our undocumented communities need relief as soon as possible, and we cannot afford to fall on the all-or-nothing- game."
NO BOOST FROM OBAMACARE BACKLASH
If Nevada Republicans are going to pick up seats in the Legislature in November, then the party better start a voter registration drive pronto.
At the end of October, Republicans trailed Democrats in active voter registrations by 97,038 (530,760 Democrats versus 433,722 Republicans). That compares with the 100,560 registered voter lead the Democrats enjoyed in January.
That reduction is hardly much of a dent in the Democratic lead; and if registrations continue at the current pace, then Democrats would still be ahead by 94,000 voters in November.
With legislative Republicans divided into moderate and conservative factions and Gov. Brian Sandoval not even attending state party functions, the Democrats are poised to keep their advantage, even with President Barack Obama's popularity ratings low.
Despite all the attacks the president has taken over his incorrect statement that under Obamacare all people could continue to keep their current insurance if they wanted, Nevada Democrats picked up 671 voters in October, compared with 226 Republican registrations. New registration figures are scheduled to be released this week by the secretary of state's office.
HENDERSON GETS ASSEMBLY CANDIDATE
Henderson businessman Stephen Silberkraus announced last week he will be a Republican candidate for the Assembly District 29 seat held by Democrat Lesley Cohen. The district lies mostly in Henderson and includes the Green Valley neighborhood.
Silberkraus, 32, said he is running on a platform to improve public education and create more jobs by diversifying the economy.
"When you see that things are not being done well, you have two choices: You can stand by, or you can work to make things better. I care about the welfare of the community and the future that my son will face."
Silberkraus operates a small multimedia and publishing company and has lived in Henderson since 2001. Over the past two years, Silberkraus has been working with NASA and the California Science Center about the decommissioning and history of the space shutter Endeavor. He plans a book.
"As a country we were able to put a person on the moon in less than a decade, yet as a state we have seemed incapable of educating our children or creating well-paying jobs," he said.
In 2012, Silberkraus lost the Republican primary for Assembly District 42 by 16 votes. Cohen was appointed to the Assembly District 29 seat shortly after the 2012 general election when April Mastroluca resigned. Democrats hold a 1,203 registered voter advantage in the district.
STATE SPENDING STATS ONLINE
For those with an unhealthy interest in the minutiae of the Nevada state budget, a document highlighting the spending decisions of the 2013 Legislature is now available for review.
The 2013 Appropriations Report, prepared by the Fiscal Analysis Division, has just been posted online by the Legislative Counsel Bureau.
The report shows that Nevada's two-year general fund budget that was approved by lawmakers earlier this year totals $6.7 billion, just $72.5 million more than recommended by Gov. Brian Sandoval. That is a 6.3 percent increase over the $6.3 billion budget that ended June 30.
The report shows that public education is getting the biggest piece of the pie, at $2.55 billion or nearly 39 percent of the total, followed by human services at a little more than $2 billion and 31 percent. Higher education came in at just under $1 billion at $971.2 million, or 14.7 percent of the total spending.
Public safety, commerce and industry, elected officials and other categories account for the remainder.
The spending is slightly higher for public education and slightly less for higher education when compared with the previous budget.
A total of 665 new state positions were approved by the Legislature, with the most significant number coming within the human services category.
The 460 new jobs in the Division of Welfare and Supportive Services are needed to process the thousands of new Medicaid applications expected as part of Nevada's expansion of the program under the federal Patient Protection and Affordable Care Act. The positions are federally funded in the current budget.
State positions will total 18,604 by the second year of the new budget, compared with 17,939 at the end of the prior two-year budget.
When higher education employment is added, the state workforce will total 25,664 in the second year of the budget, up from 24,578 at the end of the prior two-year budget.
The primary sources of tax revenue to fund the two-year budget come from sales and use taxes, estimated at just under $2 billion, followed by gaming taxes at just under $1.5 billion. A variety of other revenues, ranging from a liquor tax to a live entertainment tax, account for the remainder of the income.
The report in all of its glorious 295 pages can be found online.
Contact Stephens Washington Bureau Chief Steve Tetreault at stetreault@stephensmedia.com or 202-783-1760. Follow him on Twitter @STetreaultDC. Contact Capital Bureau Chief Ed Vogel at evogel@reviewjournal.com or 775-687-3901. Follow him on Twitter at @edison vogel. Contact Capital Bureau reporter Sean Whaley at swhaley@reviewjournal.com or 775-687-3900. Follow him on Twitter @seanw801.