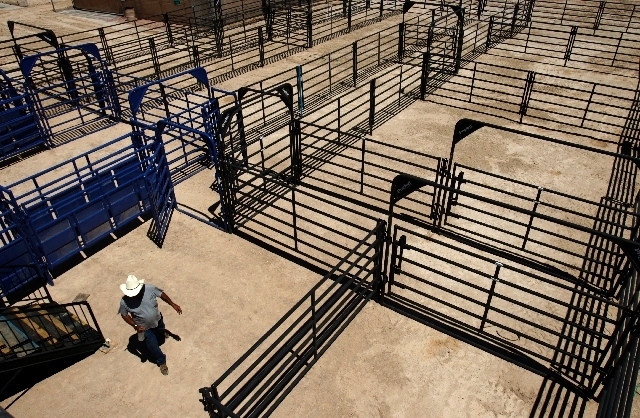 New venue, new director, new (albeit temporary) theme.
Helldorado Days, Las Vegas' longest-running civic event, announced Tuesday that its 2014 festivities will take place May 14-18 at a new location near The Smith Center, on Symphony Park Avenue and Grand Central Parkway.
Previously, festivities had been held across from the former city hall building on Las Vegas Boulevard.
The event kicks off with a locals rodeo and continues with a Fiesta del Charro rodeo and a three-day Professional Rodeo Cowboys Association rodeo.
This year, the Helldorado added an extra day and Nevada 150 theme for the parade and rodeo.
For its history dating to 1934, Helldorado was chosen by the city's Nevada 150 Commission to be an official event of the Nevada Sesquicentennial Celebration, commemorating the state's admission into the Union in 1864.
The parade will take place May 17 at 5 p.m. on Fourth Street between Hoover and Stewart avenues.
"There will be a larger carnival and a more spread-out rodeo ground," city of Las Vegas events planner Esther Carter said.
Lee Butts, Helldorado's new executive director, will oversee production and management, including the carnival, contests, poker and golf tournaments, auction and parade.
Carter said Butts was instrumental in bringing back Helldorado in 2009 after a three-year hiatus.
"I have proudly been involved in this vibrant part of Las Vegas' and even Nevada's history for 20 years; it is an honor to build upon a strong foundation and help to represent Las Vegas in Nevada's 150th celebration," Butts said in a statement.
"With our great new location and in honor of the sesquicentennial, we may look to shake some things up this year that will enable the Elks donate even more money to worthy causes."
Helldorado proceeds go to local charities. The event has raised $4 million overall, with $100,000 raised in the past two years.
Contact reporter Kristy Totten at ktotten@reviewjournal.com or 702-477-3809.