Heller insurance amendment falls short by two votes in U.S. Senate
January 30, 2014 - 10:24 pm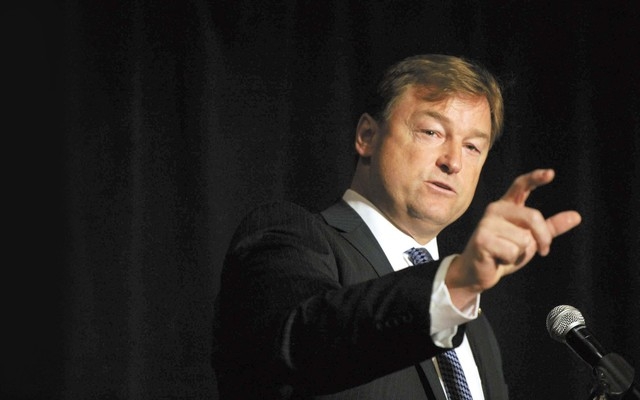 WASHINGTON — A bid by Sen. Dean Heller to become the first Republican in six months to win a Senate vote fell just short on Thursday.
Heller, R-Nev., proposed an amendment to a flood insurance bill that would make it easier for companies that sell private policies to meet the federal requirement that properties in flood-risk areas carry coverage.
It fell 49-50, two votes short of the 51 needed to pass.
Four Democrats and independent Sen. Angus King of Maine voted for the Heller amendment. Sen. Harry Reid, D-Nev., cast one of the deciding votes against it.
The last time the Democrat-controlled Senate accepted a Republican amendment was July 23, when it accepted one by Sen. David Vitter of Louisiana on a 99-1 vote. It prohibited felons from collecting federal housing benefits.
Republicans have complained they have been allowed votes on only three amendments since then. Another three took place Thursday.
The Heller amendment was favored by the American Bankers Association and the American Bankers Insurance Association. They complained a flood insurance law enacted two years ago toughened guidelines too much, and property lenders were rejecting private policies for government-sold insurance.
"Right now the national federal insurance program has a near-monopoly on the flood insurance market," said Heller, who sits on the Banking Committee.
The amendment Heller sponsored with Sen. Mike Lee, R-Utah, said policies sold by companies in good standing with state insurance regulators would be acceptable to meet the federal guideline.
"State insurance commissioners are the best regulators to allow or disallow any policy they deem proper or improper," Heller argued. The change "could give the American public more choices, higher competition and less cost when it comes to flood insurance."
Democratic leaders said the amendment was a bad deal for property owners.
The proposal "completely removes minimum standards with respect to private flood insurance," said Sen. Robert Menendez, D-N.J. He said it meant "companies would be able to offer inadequate policies to consumers."
Contact Stephens Washington Bureau Chief Steve Tetreault at stetreault@stephensmedia.com or 202-783-1760. Follow him on Twitter @STetreaultDC.