Heller leads Derby in poll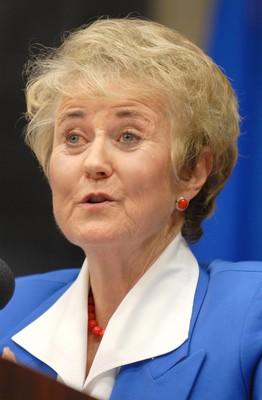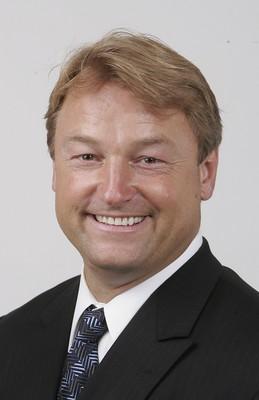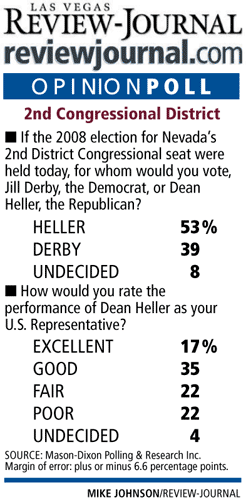 Republican Rep. Dean Heller leads Democrat challenger Jill Derby by 14 percentage points in a rematch of their race two years ago for the 2nd Congressional District seat, a poll commissioned by the Review-Journal shows.
The poll of 230 registered voters found Heller was the choice of 53 percent, while Derby picked up 39 percent and 8 percent were undecided.
The 2nd Congressional District covers all of the state except heavily metropolitan areas of Las Vegas.
Voters also were asked to rate Heller's performance in Congress, with 52 percent rating him as doing an excellent or good job. Twenty-two percent said his performance was poor, with 4 percent undecided.
During their first race for the seat in November 2006, Derby, a university system regent, lost to Heller, Nevada's secretary of state, by only 5 percentage points.
At the time, there were 48,000 more registered Republicans in the district than Democrats.
Since then, far more Democrats have registered to vote than Republicans. The Republican advantage in the district is now just under 30,000 registered voters.
But a Democrat has never won the 2nd Congressional District seat since its creation in 1982. Derby served as state Democratic Party chairwoman through much of 2007 and during the Democratic presidential caucus last January when her party picked up thousands of new registered voters.
Derby, 68, quit as chairwoman in February to launch a new campaign against Heller, 48.
The poll was conducted by telephone Monday through Wednesday by Mason-Dixon Polling & Research. The results have a plus or minus 6.6 percentage point margin of error.
Heller was not available for comment because of prior family commitments, according to his spokesman Stewart Bybee, who said they were pleased with the results.
"It is a great poll, but we have a lot of work ahead of us," he said.
"Congressman Heller has worked tirelessly over the past year and a half for the people of Nevada and he will continue to focus on the work that needs to be done. He will continue to work to lower fuel prices, strengthen our economy and our borders, and will fight against tax increases and amnesty for illegals in the months ahead."
Brad Coker, managing partner of Mason-Dixon, said Heller has a big lead now because he is the incumbent.
"It was a little different when both ran as non-incumbents," he said. "But 14 (percentage) points is probably an exaggeration."
He predicted that many undecided voters would support the challenger on election day.
Although Derby already has been calling Heller a Bush clone, Coker questions whether linking him to an unpopular president will help her in the end.
"Bush probably is dragging down Republicans across the board, but his name won't be on the ballot in November," Coker said.
Derby shrugged off the findings of the poll.
"I am not concerned with the results of just one poll, especially this early in my campaign," she said. "I am running to make a difference and bring about the real change that we need in Washington."
Her campaign manager David Mason noted early polls showed Mitt Romney and Hillary Clinton as the presidential nominees.
"Dean Heller's taxpayer-funded self-promotion about his record will not stand up to real scrutiny," Mason said. "As they learn more about that record — votes against health care for children, against the GI Bill for veterans, against affordable prescription drugs for seniors, against real solutions to our energy crisis — voters will see that it is time for a change."
Contact Review-Journal Capital Bureau chief Ed Vogel at evogel@reviewjournal.com or 775- 687-3901.