Heller, Reid want military to change how it handles sexual assaults
November 19, 2013 - 1:00 pm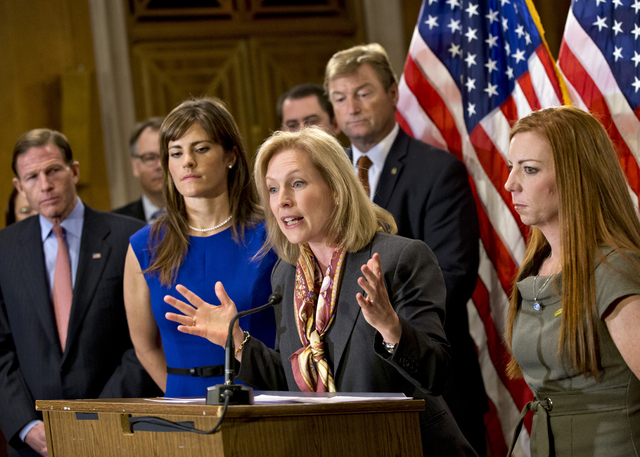 WASHINGTON — Nevada's senators on Tuesday picked the same side as the Senate debates how to respond to an alarming number of sexual assaults within the military.
Republican Sen. Dean Heller announced he supports taking the major step of prosecuting accused attackers outside the military chain of command, a stance that has split senators and roiled the top brass at the Pentagon.
Heller signed on to an amendment by Sen. Kirsten Gillibrand, D-N.Y., who is collecting supporters in anticipation of a Senate vote sometime this week. He was announced as the 49th senator to publicly back Gillibrand, who says other senators have expressed support privately.
A few hours later, Democratic Sen. Harry Reid also came out in favor of the Gillibrand plan. Reid's position as Senate majority leader is believed to give the New York senator's proposal a big boost.
"I'm going to support Gillibrand," Reid told reporters. "People can disagree with my reasoning but you know that's the substance, what I've looked at."
Senators are lining up on what is one of the major issues being debated as part of an annual defense policy bill. Reid has said he hopes the Senate can finish the bill this week before taking a two-week break for Thanksgiving.
At a news conference in support of Gillibrand, Heller said victims of sexual assaults need to feel confident they can report the crime, be protected against harassment and be assured justice will be served, "and this bill does do that."
Heller said he held "extensive conversations" with sexual assault victims, and also conferred with his brother, a retired Navy commander. He said Gillibrand's plan has support from senators on the far right like Rand Paul, R-Ky., to the far left, like Barbara Boxer, D-Calif.
"Our military is the greatest fighting force the world has ever known," Heller said. "The Gillibrand amendment makes it even better."
Gillibrand likely would need 60 votes to prevail in a Senate vote. The Senate also faces a vote on an alternative, proposed by Sen. Claire McCaskill, D-Mo., that aims to strengthen the existing military justice system to deal with sex crimes.
Gillibrand's amendment has been described as a historic change in how the military deals with lawbreakers within its ranks. It would take decisions on prosecuting a number of serious crimes away from commanders and place them with military lawyers.
The plan has gained the support of victim advocate groups. But opponents say it could undermine military justice and discipline.
Eleven members of the Senate Armed Services Committee, including its chairman, Carl Levin, D-Mich., and top Republican James Inhofe of Oklahoma, circulated a letter Monday in which they condemn sex crimes and urged they be dealt with strongly. But they argued Gillibrand's amendment would not solve the problem.
"We believe strongly that this would create a system that would actually be worse for victims and significantly undermine the military system of justice and discipline," the senators wrote. "It could lead to constitutional hurdles for military prosecutions; undermine the ability of prosecutors to execute plea bargains that can spare victims a difficult trial process."
The senators also said the plan would undercut the ability of commanders to threaten courts-martial and carry out non-judicial punishments.
The Pentagon has estimated as many as 26,000 military members might have been sexually assaulted in the past year, based on an anonymous survey that indicated victims are unwilling to come forward despite assistance programs the military has put in place.
Gillibrand argued victims do not trust the chain of command, and they fear retaliation if they step forward.
Stephens Washington Bureau reporter Peter Urban contributed to this report. Contact Stephens Washington Bureau Chief Steve Tetreault at stetreault@stephensmedia.com or 202-783-1760. Follow him on Twitter @STetreaultDC.