Heller says no to DREAM Act, favors immigration policy reform
January 6, 2012 - 10:24 am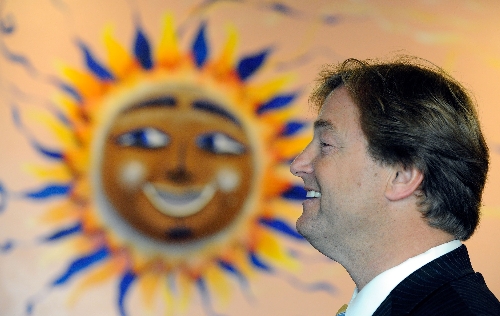 U.S. Sen. Dean Heller on Friday promised to meet with Hispanic leaders to discuss immigration reform. But the Republican maintained opposition to a proposed law that would give children of illegal immigrants the chance to become U.S. citizens if they attend college or serve in the U.S. military.
Appearing before a largely unfriendly audience packed with Latino and Democratic activists, Heller said he voted against the DREAM Act because it could provide benefits to illegal immigrants that should go to U.S. citizens, such as lower in-state tuition in some cases.
"We are a country of laws," Heller said, explaining he doesn't want to reward illegal immigrants. "We can change the immigration policy in this country to make it easier" to gain citizenship instead.
Heller said he doesn't support amnesty for the 10 million to 12 million illegal immigrants in the country but wants to streamline the system so it's cheaper and easier to become a legal citizen. He also wants to expand a temporary worker program so non-Americans can provide needed U.S. labor.
"Our immigration system is bogged down in bureaucracy," Heller said, noting attorneys are making lots of money off immigrants seeking to become U.S. citizens in a Byzantine process.
Heller's comments came during an hourlong breakfast meeting with Hispanics in Politics, the oldest Latino political group in Nevada. The event came more than two months since he angered Latino leaders by canceling an appearance before the Latin Chamber of Commerce.
Heller skipped the October chamber event at the last minute because a Democratic operative planned to videotape his appearance and because of the presence of a staffer for U.S. Rep. Shelley Berkley, his Democratic opponent, as he runs to keep his Senate seat.
Several Democratic operatives videotaped Heller's Friday appearance, but he didn't object. The audience of about 100 included representatives of the Democratic party and campaigns as well.
Otto Merida, the Latin Chamber of Commerce leader, was among those who questioned Heller at Friday's event. Merida said afterward he was satisfied Heller wanted to work with the Hispanic community, a vital Nevada voting bloc that largely backs Democrats over Republicans.
"I don't know what he was afraid of," Merida said. "Many of the things he said I agreed with."
Pressed by Merida on immigration, Heller promised to meet with the Latin chamber chief to discuss reform proposals. Heller also told Merida he would address the Latin chamber.
Despite the agreement, Merida, a Republican, said he still supports Berkley for Senate, primarily because of Heller's strict immigration views. Merida said it will be difficult for Heller and the GOP presidential nominee to win election in Nevada until Republicans ease their policies on immigration.
"What is the future of the Republican Party?" Merida asked Heller, expressing doubts about GOP candidates' electability because people believe "Republicans are against Hispanics."
Heller agreed the nation's immigration policy wasn't working.
"The immigration policy in this country has to be addressed, but it has to be addressed in a way that most people support," Heller said, addressing Merida. "You and I will sit down and try to put together an immigration policy that makes sense."
Laura Martin, a member of the Nevada Democratic Party's executive board, shouted out she would like to see the results. Heller agreed that whatever he and Merida came up with would be available.
Later, Martin said she was pleased Heller met with Latino activists, although she said he had "mastered the art of answering a question without answering the question."
"Hopefully, this is a new era of Dean Heller reaching out to his constituents," Martin said.
Heller faced more than a dozen sharp questions from the audience, mostly from the Democratic and Latino activists. The questioners were polite, however, and Heller never lost his cool, seeming loose and comfortable. Heller noted he had spoken to Hispanics in Politics several times over the years.
Heller said he hoped Hispanics would focus on "the 80 percent" of issues where he agrees with them, including family values and faith and the need to create more jobs, with unemployment at 20 percent for Latinos in Nevada.
"I believe we have a lot in common," Heller said. "Yes, I am a Republican and many of you are not. We agree more than we disagree."
Heller and Berkley are locked in a tight Senate race, and he must pick up some support from Southern Nevada's Latino population to win the statewide election. Heller was appointed to the Senate in May after representing conservative Northern and rural Nevada in Congress.
Berkley supports the DREAM Act and represents many of Nevada's Hispanics, who account for 26 percent of the state's population and about 15 percent of the electorate in recent elections.
Berkley's campaign was quick to criticize Heller after his attempt to reach out to Hispanics.
"Whether it's opposing the DREAM Act, supporting Arizona's draconian immigration law or opposing comprehensive immigration reform, unelected Sen.Dean Heller has sent a clear message to Latino voters: take your votes elsewhere," Berkley campaign spokesman Eric Koch said in a statement.
Contact Laura Myers at lmyers@reviewjournal.com or 702-387-2919. Follow @lmyerslvrj on Twitter.