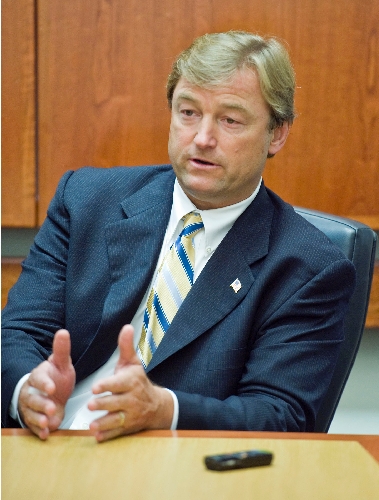 U.S. Sen. Dean Heller said Thursday that voters seem so angry at Washington that the 2012 election could result in a tidal wave of change, with control of the Democratic White House and Senate as well as the GOP-led House all switching to the opposite party.
"We may see it for the first time in the history of this country," Heller said during an interview with the Las Vegas Review-Journal's editorial board. "Because people aren't mad at Democrats. They're not mad at Republicans. They're just mad at everybody and our inability to get anything done."
Heller, a Republican campaigning to keep the Senate seat he was appointed to this year, blamed President Barack Obama and Democratic leaders such as U.S. Sen. Harry Reid of Nevada for a series of budget impasses that have failed to produce a long-term federal spending plan.
He said the recent fight over raising the U.S. debt limit above $14.3 trillion was "a wake-up call" for Congress, which he said hasn't agreed on a budget for two and a half years. After the deal, the stock market took a 1,000-point dive, and Standard & Poor lowered the U.S. credit rating from AAA to AA-plus.
"The stock market, the volatility and all that, is a reflection, obviously, on the work that we're doing in Washington, D.C., right now," he said. The debt agreement "was a bad deal, and the markets proved it."
Heller's criticism isn't surprising because he voted against the final deal, which would reduce the U.S. debt by more than $2 trillion. It also set up a supercommittee of 12 lawmakers to come up with other ways to shrink the record debt. What is surprising is Heller's candid assessment that voters in Nevada and across the country are spreading blame among both political parties and the White House.
Heller is in the unique position of having voting twice — once in the House and once in the Senate — for a GOP budget plan heavily criticized by Democrats for its proposed changes to Medicare. The plan by U.S. Rep. Paul Ryan, R-Wis., would have kept Medicare largely intact for current recipients and those within 10 years of retirement while opening a voucherlike program for younger workers.
"Right now, that's the only plan out there," Heller said, defending his support for Ryan's ideas. "So I'm not wedded to one plan. All I'm saying is it's the only plan out there."
Heller criticized Democratic leaders, including Senate Majority Leader Reid, for not offering their own long-term budget proposals while accusing Republicans of wanting to kill Medicare. He said the Democrats want to avoid votes that could be used against them, and Reid is focused on maintaining control of the Senate, now 53-47 in favor of his party. One-third of the 100 Senate seats will be contested in 2012, with Democrats defending the most at 23 and Republicans trying to keep 10.
Republicans took control of the House, 240-192 over Democrats, after the 2010 election.
"They don't want to take tough votes," Heller said of the Senate. "So what does that mean when you're not willing to have your own people take tough votes because it's more important for you to have the majority than it is to turn this country around?
"Only one side has presented a budget," he said referring to the House-passed Ryan plan, "and it's languishing."
Sen. Reid's office rejected Heller's complaints.
"While Republicans obsess about Washington process, Sen. Reid is focusing on putting Nevadans back to work and standing up for seniors by blocking the GOP's repeated attempts to kill Medicare by turning it over to private insurance companies," Reid spokesman Zac Petkanas said.
Heller also slammed his Senate opponent, U.S. Rep. Shelley Berkley, D-Nev., for backing Obama's health care overhaul because it cut Medicare spending by $500 billion. The savings come from reducing the rates of reimbursement to doctors, not by cutting direct benefits to recipients. Heller said the GOP budget plan he voted for would have restored the $500 billion.
"So tell me who is hurting Medicare today," Heller said.
Republicans could pay for restoring the $500 billion in Medicare spending by closing corporate tax loopholes, which could result in $1 trillion in new revenue, Heller said. But he acknowledged that a long-term fix for Medicare is needed so it doesn't go bankrupt in another 10 to 20 years.
Heller took further aim at Berkley by mocking her jobs tour. He said she hasn't visited many businesses but instead has been "holding press conferences" around the state. He also scoffed at her criticism of the supercommittee that she voted for and her lack of a Medicare proposals. Berkley said she would have preferred not to hand off finding a budget solution to a special panel.
"Where's your plan?" Heller asked, saying reporters should ask Berkley that question.
Last week, Berkley said she was not prepared to discuss her specific Medicare ideas.
Berkley's campaign took a swing at Heller for not focusing on Nevada's high jobless rate.
"Dean Heller recently said that now is not the time to be talking about jobs. Shelley Berkley could not disagree with him more," Berkley's campaign manager Jessica Mackler said. "Since joining the Senate, Dean Heller has done everything but focus on jobs, putting his energy instead into being the only member of Congress to vote three times to end Medicare by slashing benefits and putting insurance company bureaucrats in charge of seniors' health care. Dean Heller wants to kill Medicare to save it. That won't work. Shelley Berkley has always fought to preserve Medicare, and will continue to do so."
The third vote is an apparent reference to Heller's support for a GOP bill that would have cut the budget, capped it and required it be balanced, but it specifically exempted Medicare.
In the wide-ranging interview with the editorial board, Heller also talked about the importance of the GOP presidential race. He said he hoped someone with business experience wins the job.
Asked to handicap the field, Heller said he wasn't endorsing anybody, but he saw the top tier as U.S. Rep. Michele Bachmann of Minnesota., Texas Gov. Rick Perry, former Massachusetts Gov. Mitt Romney and U.S. Rep. Ron Paul of Texas. Romney has the most business experience.
Heller also noted that former New York Gov. George Pataki could jump into the race, and New Jersey Gov. Chris Christie might yet be talked into running.
"I'm a primary guy, so the more the merrier," Heller said. "We need to get these ideas out there."
Contact Laura Myers at lmyers@reviewjournal.com or 702-387-2919. Follow @lmyerslvrj on Twitter.