Help homeless by giving to charity, Las Vegas officials say
Updated November 19, 2018 - 4:42 pm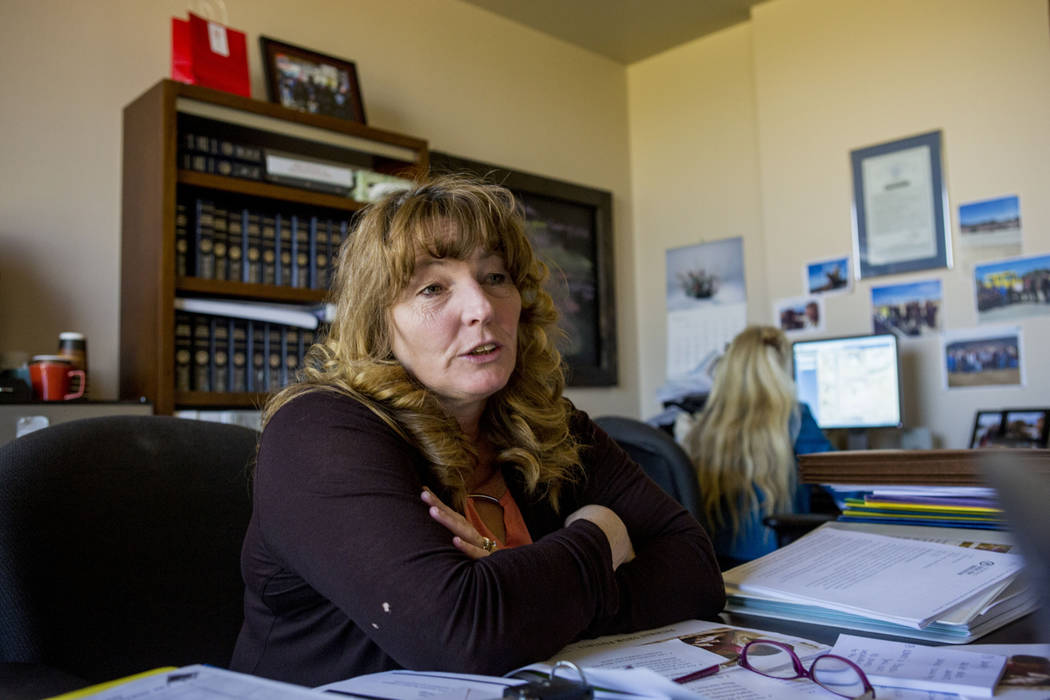 With Thanksgiving and other winter holidays fast approaching, police and government officials in the Las Vegas Valley are urging people to donate to charities serving the homeless instead of giving directly to people living on the street.
The overarching message, officials say, is to give responsibly.
"You see a lot of people going down the street to give blankets, to give water, to give sandwiches, and what I'll tell you is that's not healthy for the homeless," Clark County Commissioner Marilyn Kirkpatrick said during a press conference Monday morning. "What we want to do is actually ensure (homeless people) get services so that moving forward we can keep them off the streets for the long term and get them the proper care and the tools that they need to be successful."
In addition to health concerns, officials say direct donations can turn into trash the government spends money cleaning up. Police report seeing homeless people getting into fights over other items.
Officials are directing residents to MeaningfulChangeLV.com, which lists more than a dozen charities that accept donations of money, food and supplies.
Statistics show far more homeless people in Las Vegas are sleeping on the streets than in local shelters. An annual homeless census conducted in January showed that of the more than 6,000 homeless people counted in Clark County, nearly two-thirds were living without shelter.
The federal government estimates it costs $21,000 a year to house a homeless person. By contrast, Nevada taxpayers spend approximately $73,000 a year for services for one homeless person, according to MeaningfulChangeLV.com. That cost is largely driven by hospitalization, arrests and street cleaning.
Metropolitan Police Department Deputy Chief Chris Jones said that giving directly to homeless people can deter them from making contact with local service providers who are equipped to give them shelter, help them look for jobs and provide treatment for drug addiction.
"Oftentimes the people you see in the (street) intersections are the most service-resistant individuals," Jones said. "And those are the ones we work tirelessly to get to the resources so long term they can have a place to stay, long term they can have a place to sleep and long term they can be well fed."
But a homeless advocacy group is pushing back against the government's message.
Eric Tars, senior attorney for the National Law Center on Homelessness and Poverty, said donating to charities and service providers is vital to helping homeless people, but giving money, food or supplies to those people directly supports their basic survival needs.
"Most of them are using it for their immediate needs, not anything people would consider less important uses, whether it's drugs or alcohol or anything like that," he said. "No amount of discouraging other people to give to them will force them into those services. It's just going to make their lives on the street more difficult."
Contact Michael Scott Davidson at sdavidson@reviewjournal.com or 702-477-3861. Follow @davidsonlvrj on Twitter.
Opportunities to give back this week
Three Square Food Bank is looking for volunteers to help put on a Thanksgiving dinner Thursday for veterans 60 and older and their families. The dinner project started last week to address the estimated 26,000 food insecure seniors across the valley. Those interested in volunteering should contact Mikey Kelly, Veterans of Foreign Wars community meal project manager, at 702-439-8158.
Gobble Gobble Give will deliver food, clothing and toiletries to the homeless from 9 a.m. to 6 p.m. Thursday at Lama Lot on 717 E. Fremont St. To volunteer, visit www.gobblegobblegive.org/how-it-works/thanksgiving-day/
Calvary Chapel Las Vegas is looking for volunteers for its 11th annual Blessfest for the homeless and those in need throughout the Las Vegas Valley. On Thursday the church will serve a meal and provide medical, dental and optometry services, along with legal help, access to computers, personal grooming and more. For more information about this event, visit cclasvegas.org/bf or call 702-362-9000.