Henderson advances Union Village project; delays medical marijuana licensing
December 18, 2013 - 7:25 am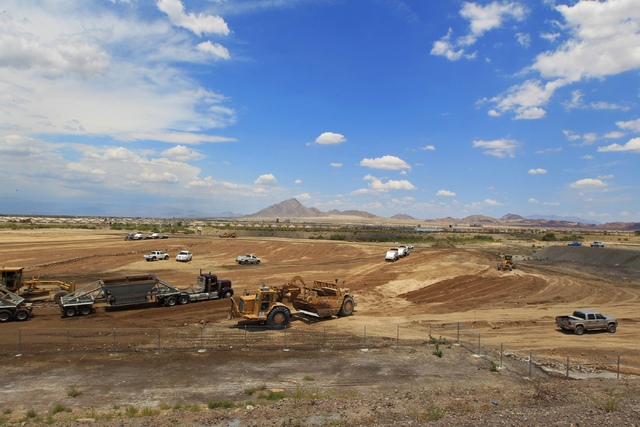 The Henderson City Council, sitting as the Redevelopment Agency, unanimously approved owner participation agreements Tuesday with Valley Health System LLC and the developer of Union Village.
Valley Health System wants to build an acute-care hospital that will be the anchor tenant for the massive Union Village project in Henderson.
The $1.6 billion project on a total of 228 acres is being billed as the first integrated health village in the world. Plans call for the project to include a retail center, residential apartments, a senior care center and a cultural center.
"I think this is a very positive day, one that we've been waiting for for the past year," Councilwoman Debra March said.
Council members approved a purchase agreement with the developer in June 2011. The deal calls for the city to sell 150.7 acres near U.S. Highway 95 and Galleria Drive for $11.6 million.
But City Manger Jacob Snow has said the city will not sell the land until the developer has signed an agreement with the project's primary tenant.
The developer previously had a one-year agreement to negotiate exclusively with Dignity Health, but that agreement ended at the start of January. Dignity Health owns the two St. Rose Dominican hospitals in Henderson.
Five hospital medical centers in Southern Nevada make up the Valley Health System: Spring Valley, Summerlin, Valley, Centennial Hills and Desert Springs.
When it acquires the land from the city, Union Village LLC plans to sell about 30 acres to Valley Health System for construction of the hospital.
The entire Union Village project, including the hospital, is expected to create more than 17,000 jobs and generate more than $158 million in tax increment revenue.
Union Village is to be reimbursed with up to $80.2 million to be paid from tax increment generated from its 120 acres.
According to background provided with Tuesday's agenda item, Valley Health asked to receive up to $33 million from the Redevelopment Agency.
Snow said the project would not be completed without redevelopment assistance. The site was once used as a gravel pit and was left with large areas where the ground was as much as 25 feet lower than the surrounding property.
Construction is expected to start in 2015 and be completed by 2022.
MEDICAL MARIJUANA
Also Tuesday, the council unanimously adopted a resolution directing city staff not to accept land use, business license or building permit applications for medical marijuana establishments.
The council is scheduled to vote Jan. 7 on a six-month moratorium on applications for construction or operation of medical marijuana businesses.
"I would say that this is a very strong indicator that the city's not interested in licensing these types of establishments," City Manager Jacob Snow said last week.
Mayor Andy Hafen said at the meeting, "This is not shutting the door completely."
The refusal to accept applications comes despite the Nevada Legislature's approval of Senate Bill 374, signed into law by Gov. Brian Sandoval in June, which authorizes up to 40 dispensaries in Clark County.
The bill came more than a decade after the state's voters approved legalization of medical marijuana and a 2001 law that stipulated patients had to grow the drug themselves.
Marijuana is illegal under federal law, but law enforcement has backed off cracking down on people using it for medical reasons. Other states have loosened marijuana restrictions.
According to background information provided with Tuesday's agenda item, imposition of the moratorium "will allow the city to consider the policy and legal implications of" permitting medical marijuana establishments to operate within city boundaries.
The Las Vegas City Council approved a six-month moratorium on medical marijuana businesses in September.
Las Vegas officials said the delay was needed to have time to create rules for marijuana businesses. The state is required to devise regulations by April.
Contact reporter Carri Geer Thevenot at cgeer@reviewjournal.com or 702-384-8710.