Henderson brewery grand opening draws packed house —PHOTOS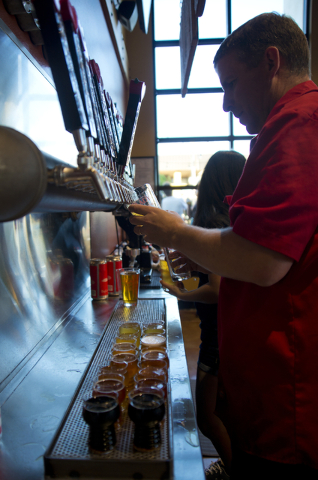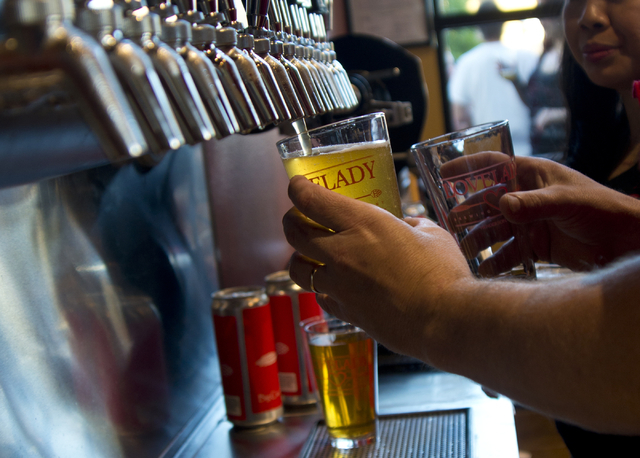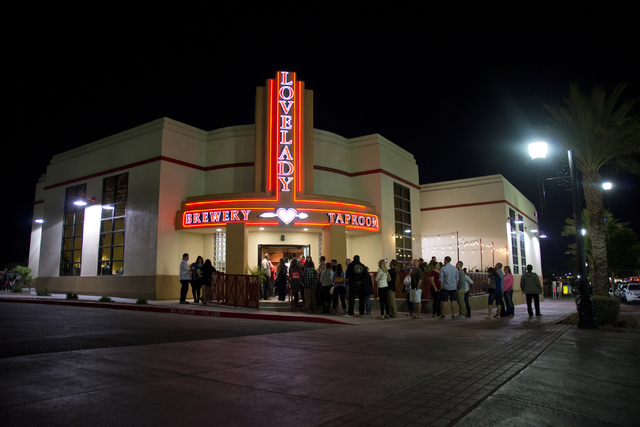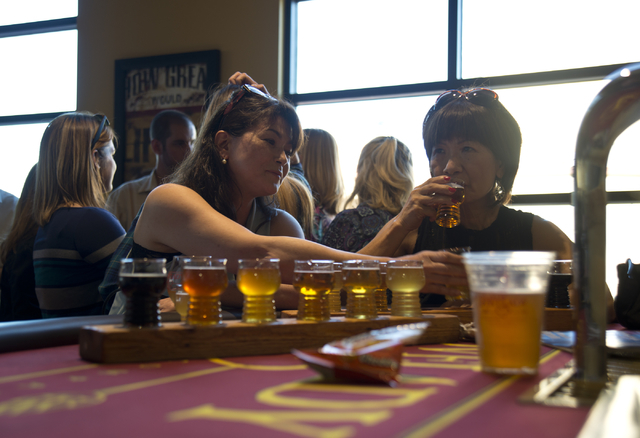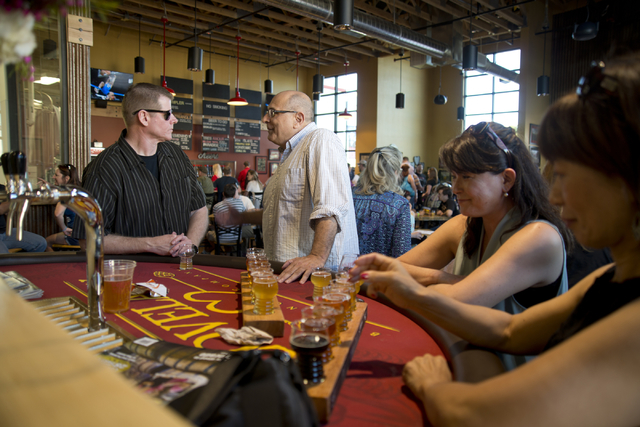 If you brew it, they will come. Or at least that's what Richard Lovelady was banking on.
Lovelady Brewing Company officially opened its doors for business at 4 p.m. Friday.
Lovelady, the brewery owner and namesake, was nervous going into Friday night's grand opening, unsure of how a brewery on an old Henderson street would fare.
But those nerves were short-lived.
By 4:05 p.m., the bar and tables were full. The line to order one of the seven available brews — and one house-brewed rootbeer — reached out the door and onto the sidewalks of Water Street, and stayed that way for most of Friday night's grand opening.
Millennials and baby boomers alike packed into the tap room of the 4,000-square-foot brewery for Friday evening's grand opening. Some stayed for a drink. Some for several. People waiting in line — which was out the door until after 10 p.m. — or drinking their brews while standing eagerly waited to take their spots at one of the reclaimed ponderosa pine tables.
"Man it was great," Lovelady said. "You hope when you do a grand opening that you get a ton of people, but you never know."
Built on land that had remained vacant for decades near the front of Water Street, the brewery is the first new building erected in Henderson's historic downtown district in over 5 years, according to Tiffany Reardon, a spokeswoman for the city's Economic Development Division.
City officials have talked extensively since the mid-2000s about revitalizing the street into something more reminiscent of a downtown district. But when the economy tanked in 2007, those plans went to the back burner.
But with Lovelady's opening, and a handful of other projects close to starting on the opposite end of the street, those officials feel like momentum is finally kicking into gear.
"We feel that this project is the start of more great things to come in the next several years," said Mark Hobaica, the city's redevelopment manager.
For Lovelady, a 20-year resident of Henderson, the opportunity to build his brewery on Water Street presented quite the draw.
"I wanted to be in the middle of a neighborhood," he said.
Lovelady spent 19 years as the head brewer for Gordon Biersch before leaving that job at the start of 2016. After spending decades in the restaurant business, he said he wanted his brewery to stand out from the rest of the bars and grills in town.
There's no smoking and no gambling. There is no in-house food, although Lovelady designed the building with a dedicated food truck slot out back. The truck that showed up for the grand opening was out of food within two hours, Lovelady said.
With only two televisions on the walls inside the bar, patrons might just be forced to revert to the prehistoric form of socialization: Conversing with their fellow humans.
And that is exactly what happened Friday.
As the night went on, Lovelady noticed people moving the tables together so they could chat, many of them didn't appear to know each other.
People were not focusing on the televisions, but instead on their talks and their beers. Lovelady said he shut the music off "because you couldn't hear it anyways."
"I wanted a place where people can come have conversations," he said. "This area has been kind of starved for that kind of sit-down bar."
Judy Fisher, 67, lives just up the street from the new brew pub, and said she watched the building take shape day after day on her bus ride home.
Fisher sampled three of the taps: a sour, a pineapple sour and a red ale.
"I'm not a big beer drinker," Fisher said. "But I'm glad it's right here on Water Street."
Contact Colton Lochhead at clochhead@reviewjournal.com or 702-383-4638. Follow @ColtonLochhead on Twitter.