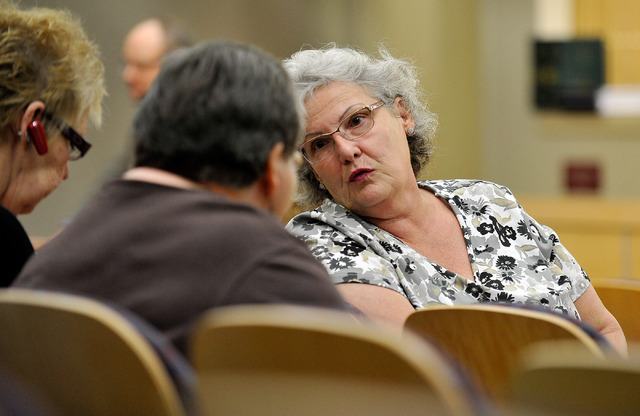 The Henderson City Council unanimously approved nearly $2.02 million in city fee increases and cost savings Tuesday to help bridge a large budget shortfall.
The Council approved cutting back some parks and recreation services, including decreasing hours at the Heritage Park Senior Facility and other recreation centers, eliminating a weekend food program at senior centers and increasing some fees.
The recommendations are an extension of the Special Budget Ad Hoc Committee report presented to the City Council in February to help bridge a projected $17 million annual infrastructure shortfall.
Mayor Andy Hafen said during the 80-minute discussion that when the economic downturn began no one in Henderson could envision how long and severe it would be.
"We need to ask ourselves, what level of service can we continue to provide," Hafen said.
One of the changes impacting a large number of city residents will be the reduction in hours at many recreation centers and the Heritage Park Senior Facility. However, cutting nearly 10 hours a week at each facility will save the city an estimated $343,000. Starting May 24, the operating hours at Heritage Park and other recreation centers will be 6 a.m. to 8 p.m. Monday to Thursday, 6 a.m. to 6 p.m. on Friday, 9 a.m. to 3 p.m. on Saturday. The Multigenerational competition and Heritage pools will remain open on Sunday 1 p.m. to 5 p.m.
The city will open the activity pools one hour later at noon Monday through Thursday, and close indoor pools between 11 a.m. and 1 p.m. The Council also approved a $1 fee increase at pools to $2 for children and seniors and $3 for adults. The city will eliminate the sale of swim and trim passes immediately, which allowed access to pools and racquetball at a discount.
The city will eliminate the weekend food program at the Heritage Park Senior Center and raise the suggested donation from $1.50 to $2.50. This and other changes to the city's nutrition programs could bring a combined savings and new revenue of $585,000.
Resident Alice Silva, who said she volunteers at city facilities, warned the council that the price cuts and hour reductions could have a negative impact on Henderson residents.
The Council approved fee hikes across many parks and recreation programs — including aquatic programs, preschool rates, sports fees, Safekey fees — to mirror what is being charged in Las Vegas, North Las Vegas and Clark County facilities.
Councilman John Marz expressed concern increasing preschool rates and hurting seniors who are truly in need.
However, Marz believes there are a lot of seniors who could pay more for the meals program but are not paying their fair share.
Councilman Sam Bateman said the council has the ability to adjust any changes quickly if there are adverse impacts on any one group.
City Manager Jacob Snow told the council that he has asked department heads to cut another $5 million from the fiscal 2014-15 budget.
The city is close to changes to the senior transportation program, which is currently operated by the city at a cost of $236,000 annually. The program has 111 unique users that pay $1 per round trip from their residence to one of the two city-operated senior centers.
Snow told the council he was not comfortable following the ad hoc committee's recommendation to eliminate senior transportation outright. Henderson is currently negotiating with outside companies to take over the service, which would likely be subsidized by the city to keep the price low for riders.
Hafen said that the fees and many services remained the same during the economic downturn, but the city can not afford to continue business as usual.
"We have more residents and less money and fewer employees to provide the service and amenities," Hafen said. "So something has to give."
Contact reporter Arnold M. Knightly at aknightly@reviewjournal.com or 702-477-3882. Follow him on Twitter: @KnightlyGrind