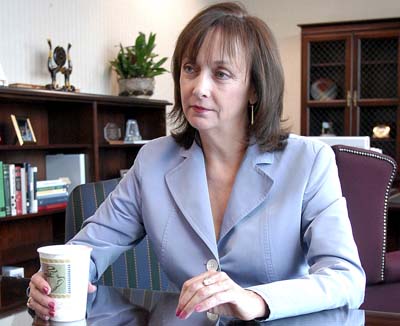 Henderson's first female city manager was fired Tuesday, ending an 18-month tenure that city council members say created "a culture of fear."
The City Council voted unanimously to fire Mary Kay Peck in what was originally intended as an evaluation.
Peck sat silently in the audience as council members lambasted her, saying she intimidated underlings with an abusive management style. She walked out after the vote, looking sad as she forced a smile.
"We certainly cannot have a culture in our city in which people are afraid," Councilman Jack Clark said. "A culture of fear."
Clark said this was his saddest day in his 16 years on the council.
The council chose Assistant Manager Mark Calhoun as acting city manager.
Because Peck was fired with cause, the city will pay her about $159,000 for her paid leave. She earns $225,000 a year plus benefits.
Peck's attorney, Norman Kirshman, said the city should give Peck $1.2 million in severance pay. City officials rejected that proposal.
Kirshman argued that the city lacked cause to dismiss Peck. There is nothing in writing that finds fault with Peck's job performance, Kirshman said. No evaluations were ever done on Peck, even though she twice requested them.
No city officials have offered suggestions for how Peck might improve her relations with detractors, Kirshman said.
"If there's been a failure here, the failure is on the part of the city," Kirshman told the council.
Council members took turns picking apart Peck's conduct.
Peck drove some employees to quit for fear they would be fired, Councilman Arthur Hafen said.
She also ordered staff to not tell the Council about the city's full budget crunch, Mayor James Gibson said. "I believe there is a failure in leadership for fiscal responsibility."
Council members also bashed her for disclosing employees' confidential medical information and publicly embarrassing underlings who fell out of favor.
"Employee morale was affected by the way she managed," Councilman Steven Kirk said.
A couple council members said Peck's denials about internal discord and financial problems caused them to lose trust in her leadership.
Clark expressed sympathy for Peck, saying she was a good, loyal, employee who was out of her depth when she became city manager.
Councilwoman Gerri Schroder said she liked Peck as a person but couldn't condone her behavior.
"This is not personal," Schroder said. "This is about the business of running the city."
Contact reporter Scott Wyland at swyland@reviewjournal.com or 702-455-4519.