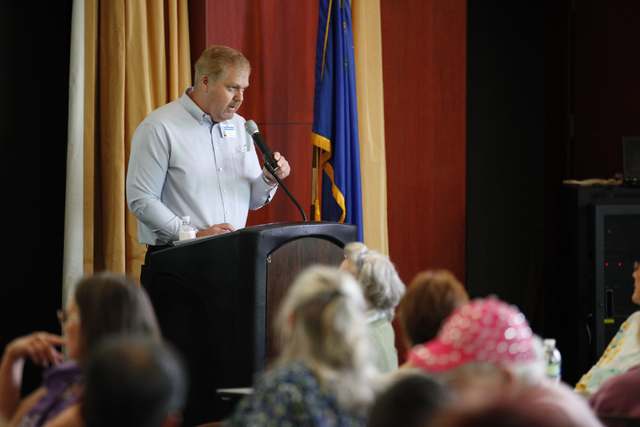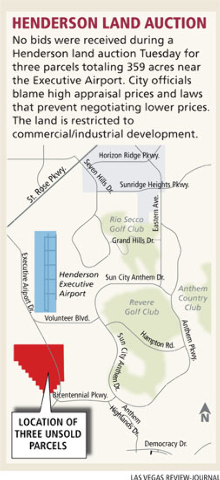 Henderson has large land it would like to sell, yet the city is struggling to find buyers.
The latest failure came Tuesday when it received no bids for three parcels in a planned industrial district near Interstate 15. The three contiguous but separate parcels of 82 acres (appraised at $7.4 million or $90,387 per acre), 110 acres ($9.7 million or $88,721 per acre) and 167 acres ($16.03 million or $95,988 per acre) are south of the Henderson Executive Airport. The minimum bid must be at the appraised price.
Bob Murnane, Henderson's director of public works, parks and recreation, said he was surprised there were no bidders because eight potential investors attended a pre-bid meeting with the city.
"The market is coming back and people are looking for property," Murnane said. "There was enough interest to drive people in for a pre-bid meeting and converse with us and ask a lot of detailed questions."
Rick Hildreth, a senior adviser with Las Vegas-based real estate firm Land Advisors Organization, said there is not a lot of demand for large industrial parcels in the Las Vegas Valley.
"From a speculator's standpoint, these are probably not a bad price for industrial land," Hildreth said. "They're just so big. It would take somebody 10 to 15 years to burn through that."
The city was optimistic in February when the auction process started because of the land's proximity to the inter­state and airport. The parcels are also near a FedEx shipping facility scheduled to open on 36 ares in September, and a Levi Strauss distribution center on the corner of Executive Airport Drive and St. Rose Parkway.
Tuesday's lack of bids is the latest stumble for the city's efforts to sell land.
A 16.37-acre parcel southeast of Horizon Ridge and Gibson Road, appraised at $3.4 million or $206,780 per acre, went unsold at auction last year. The same thing happened with 31.26 acres on the northwest corner of Mission and College drives appraised at $9.5 million or $300,000 per acre, which Murnane and Hildreth viewed as too high. Both parcels are zoned residential.
"Nothing against the appraisers, but they don't have a lot of good information to go off of these days," Hildreth said. "It's not really a true market out there right now … I don't know anything in that area that is trading for that high a value."
Hildreth said residential and commercial land is selling below market because banks and private equity firms are clearing their holdings, distorting the view of the market. Also, the land Henderson was trying to sell would have high developer costs tied to building the infra­structure.
Murnane said these parcels went to bid after developers approached the city about selling the land, but backed off at the price.
Hildreth said the cost of the infrastructure needed to develop the raw land at all five parcels likely hindered their sales.
The city has no plans to bring any of the land back to auction soon, Murnane said, adding, "We have to monitor the market and see what interest is out there."
Contact Arnold M. Knightly at aknightly@reviewjournal.com or 702-477-3882. Follow him on Twitter: @KnightlyGrind.