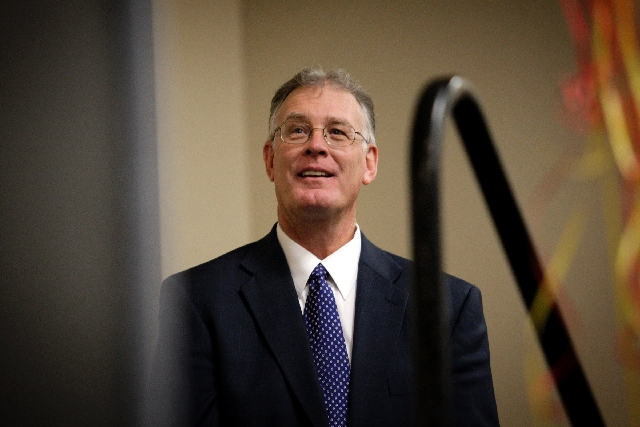 Henderson Mayor Andy Hafen is winning the race for campaign contributions by a landslide.
According to Hafen's latest campaign contributions and expenses report, filed Tuesday with the Nevada secretary of state's office, he has raised almost $59,000 since the start of the year.
That brings the total amount of money Hafen has raised for the 2013 mayoral race to more than $200,000.
However, the mayor returned a $10,000 contribution he received from Chris Milam's International Development Management LLC.
The city sued Milam, who promised to build a professional arena-stadium complex in Henderson, and accused him of fraud. As part of a settlement reached Tuesday, Milam agreed he would never again do business in the city.
None of Hafen's six challengers has raised more than $12,000.
Rick Workman, accreditation coordinator for the city of Henderson, reported total contributions of $11,550. He loaned himself most of that money.
Each of the other five candidates in the race has raised $1,100 or less.
Early voting starts Saturday. Hafen has said he wants to eliminate all his challengers in the primary election on April 2. He can do that by receiving 50 percent or more of the vote.
Hafen's top contributors include Green Valley Ranch Gaming Inc. and LV Gaming Ventures LLC. Each company gave him $10,000 in December. He also received $10,000 in October from Union Village.
Records show Hafen already has spent at least $138,000 on his campaign.
Hafen was elected mayor in 2009 after defeating then-Henderson City Councilman Steve Kirk by 45 votes.
Contact reporter Carri Geer Thevenot at cgeer@reviewjournal.com or 702-384-8710.
Related Story
Henderson mayor Hafen wants to end contest in primary