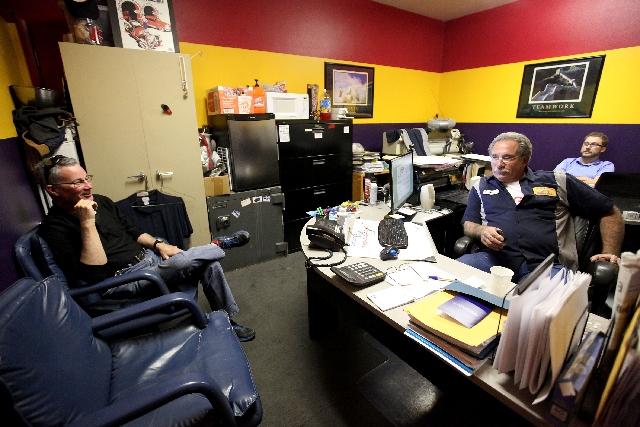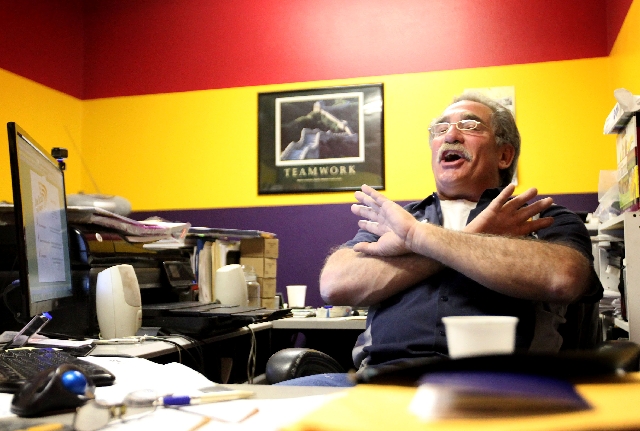 hen Henderson resident Joe Scala decided to run for mayor, the first call he made was not to his mother or his sister; it was to a man who supervised him after his release from prison 16 years earlier.
Scala, now 55, wanted to know what his former probation officer, Mike Severance, thought of his plan to enter politics.
Severance, who retired in September, recalls telling Scala, "Yeah, I think you should run."
A construction worker who enjoys restoring vintage cars, Scala is not your typical candidate.
He has a felony drug conviction and has spent time in prison.
Since deciding to run for office, Scala has sought and obtained only one endorsement, and it came from an unlikely ally: Severance.
"He's the first person I met in Las Vegas, and I still know him, and Mike has never treated me like a criminal," Scala said.
The candidate proudly shares the letter of recommendation, dated Aug. 24 and written on U.S. Probation Office stationery. According to the letter, "Joe performed in an exemplary manner while on supervision with our office.
"What has impressed me the most about Joe through the years is his honesty and integrity. I do not believe that his conviction in any way should be a hindrance to any endeavor that he chooses to pursue. As I write this letter, Joe is preparing to run for the office of mayor of Henderson. I am delighted to enthusiastically support Joe in his pursuit of this prestigious position."
Scala is one of six people challenging Mayor Andy Hafen in this year's election. Early voting begins March 16.
The information about Scala's criminal past cannot be located easily, but he openly shared it with a reporter the day he filed for office. Severance accompanied him that day.
Scala's case does not show up on a national system with public access to electronic records of federal court cases, and the Federal Bureau of Prisons website lists him only under his former name, Joseph Lewis Ackerman. It indicates he was released in 1996 but provides no other details.
The candidate said he spent five years in the federal prison system after pleading guilty in Nevada to conspiracy to distribute cocaine. While he has been forthright about his conviction, he bristles when asked too many questions about the crime, which he has described repeatedly as simply "a phone call."
"My entire life now has been blemished by a stupid phone call," he said last week.
Scala said the crime occurred in the Los Angeles area. An undercover FBI agent wanted to buy cocaine, and Scala put him in touch with his best friend's uncle, who was a dealer.
"I made a conscious decision," said Scala, a Navy veteran. "I worked at the White House. I worked at the Pentagon. I should have known better."
He insists that was his one and only involvement with drugs. He doesn't even drink.
The candidate chuckles at the irony of being a conservative Republican with a cocaine conspiracy conviction.
Scala said he is eligible to run for office because of a Nevada law passed in 2003. The law automatically restored voting rights for convicts who previously had completed their sentences, and it gave them the right to run for public office after four years.
The candidate said he used "Scala," his grandmother's name, while pursuing an acting career in Hollywood but did not legally change his name until after prison.
During an interview last week at Premier Collision Center in Henderson, where Scala works on vintage cars and operates his campaign office, he and Severance talked about their relationship, although it was Scala who dominated the conversation.
Scala, who likes to show off his calloused "ugly man hands," wore a Premier work shirt during the interview and during a meeting with the Las Vegas Review-Journal's editorial board in early February. Severance accompanied him to that meeting, too, but Scala said he didn't know he was there for an endorsement.
Severance said he rarely formed personal relationships with former clients during his 28-year career with the U.S. Probation Office in Las Vegas, but he connected with Scala. They were both about the same age and both had military backgrounds.
The former probation officer said Scala was passionate about getting back on the right track, and they stayed in touch over the years. Scala even attended Severance's retirement party.
"I don't dole out an endorsement very easily," Severance said.
Scala, a native of New York, said he has few friends and leads a private life. He said his felony conviction has made it difficult to have successful relationships.
"As soon as they find out you're an ex-felon, they hide the silver," Scala said.
He said a post-prison marriage lasted "one year and one month." He has been single for the past nine years and said he doesn't date anymore.
"I'm pretty much committed to being alone the rest of my life," Scala said.
His 150-pound service dog, Max, is almost always at his side.
Last year, while Scala was hospitalized, Max ended up in the care of former Henderson Councilwoman Kathleen Vermillion.
Vermillion, who resigned in January 2012 before finishing her first term, had never met Scala but kept Max at her home for a week.
After Scala's release from the hospital, he and Vermillion met and began a friendship. It was Vermillion who first suggested he run for mayor, saying he was direct and didn't waffle.
Scala recalled her telling him, "I was down there long enough to know you would be the very thing that they would fear the most."
Scala said he thought about the idea for two days. The first night, he couldn't sleep.
Scala likes to say he had to put on his "big-boy pants" when he decided to run. He acknowledges that he has made mistakes but added, "It was through the tutelage and mentorship of Mike Severance that those mistakes were never made again."
Contact reporter Carri Geer Thevenot at cgeer@reviewjournal.com or 702-384-8710.