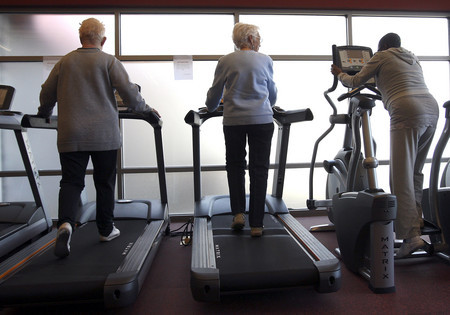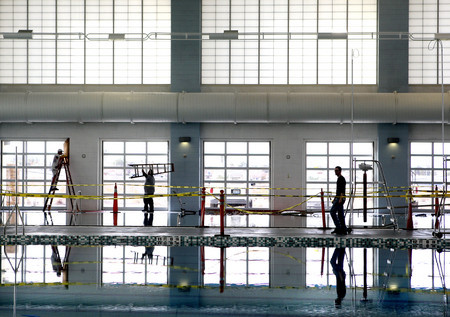 Neck deep in the worst recession Henderson has ever seen, city officials will gather Saturday to mark the grand opening of a new senior center and indoor aquatic facility.
The Heritage Park complex at the eastern edge of Henderson cost $26.2 million to build and eventually will anchor a 160-acre park scheduled for completion before year's end.
The timing might be considered terrible because Henderson is in the midst of a hiring freeze and serious budget troubles that have made it hard to operate facilities the city already has.
But the timing also is ideal because the complex comes on line just as more residents are looking for affordable ways to stay active.
"We're seeing a big increase in people turning to Parks and Recreation in these tough economic times," said Kim Becker, spokeswoman for the department.
Becker said some residents are trading their gym memberships for cheaper, contract-free workouts at the city's recreation centers.
Others are simply taking their kids to the public pool or park because that's what they can afford.
"We're seeing a lot more people turning to the lower-cost alternative," she said.
In the last six months of 2009, the city logged 1.27 million visits to its six recreation centers, an increase of more than 152,000, or about 13.5 percent, over the same period in 2008. Participation in the city's youth soccer league was up 13 percent last year.
Becker said Heritage Park was conceived long before the economy tanked. Even the groundbreaking ceremony in July 2008 came before the worst of the downturn hit and the city enacted its hiring freeze.
Once construction was under way, there was never any serious thought given to shutting it down, she said. "Unlike a park, you can't just leave a half-built building sitting there."
When it came to staffing the facilities, city spokesman Bud Cranor said the Parks and Recreation Department had to get creative, shifting employees from other posts to fill jobs without adding new ones.
It helped that the Heritage Park complex replaces two far older city facilities: the Lorin L. Williams Indoor Municipal Pool, which closed in 2003, and the Henderson Senior Center in the downtown area, which is tentatively scheduled to close June 30.
"They're new in the sense that we just built them, but they are replacing two existing facilities," Cranor said.
The new Heritage Park Aquatic Complex at Racetrack Road and Burkholder Boulevard will open after the dedication ceremony at 10 a.m. Saturday.
The 41,500-square-foot facility includes a 570,000-gallon competition pool and a 73,000-gallon teaching and therapy pool. Henderson covered most of the $14.5 million cost, though the Clark County School District kicked in $2 million and plans to use the pool for swim meets.
The Heritage Park Senior Facility next door actually opened quietly in mid-December, and Becker said the first month has been surprisingly busy.
"We really didn't do a lot to promote (it)," she said. "This is just attracting a whole new demographic. There's more for them here."
Built for $11.7 million to serve people over age 50, the 30,000-square-foot senior center includes a dining room that serves low-cost and sometimes free lunches to seniors, a dance studio, a fitness center, an art studio with its own pottery kiln, and a combination kitchen-classroom that looks like a cooking show set.
A small Henderson library branch opened inside the center on Monday.
Many of the center's rooms are separated from each other by partitions that can be folded back to create larger spaces.
Out back is a grass plaza with sweeping views of the Las Vegas skyline and a row of sand courts for bocce, which is the Italian equivalent of lawn bowling.
"The bocce ball classes are already full," Becker said.
Henderson resident Rosita McKelvey pushed her walker the four blocks from her house to have lunch at the senior center on Monday.
The 62-year-old said she can't wait to enroll in a few of the center's dance and cooking classes.
"It motivates me to come and exercise and not just sit at home doing nothing," she said with a smile.
Becker said work is scheduled to start soon on the rest of the park, which eventually will include 13 multi-use ball fields, tennis courts, walking trails and the city's largest dog park.
Becker said Henderson is leasing the property from the Bureau of Land Management for a few dollars an acre, and park construction will be paid for with money the city already has received from the sale of federal land in the Las Vegas Valley.
City Councilwoman Gerri Schroder, who represents the east side of the city, said Henderson residents, and seniors in particular, need new facilities like this now more than ever.
"It gives an opportunity for people on a fixed income to socialize with each other," she said.
That includes Schroder's 77-year-old mother, who just moved to Henderson from Arizona and is looking forward to using the new senior center.
"Actually, I think this is the perfect time to be opening something like this," the councilwoman said. "This is for the people, for their quality of life. That's what we're here for."
Contact reporter Henry Brean at hbrean@reviewjournal.com or 702-383-0350.
Heritage Park
Henderson's new senior center and aquatic complex are located at 300 Racetrack Road, which is at the corner of Racetrack Road and Burkholder Boulevard.
The senior center is open now and can be reached at 267-2950.
The aquatic complex is set to open after a dedication ceremony at 10 a.m. Saturday.