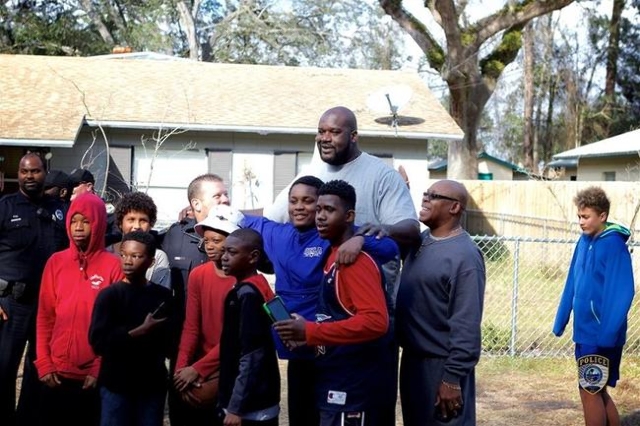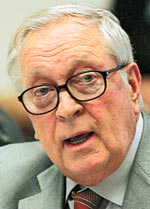 Clean-freak Jim Rogers has gone ballistic again.
The mercurial owner of KVBC-TV, Channel 3, and university system chancellor sent a former Employee of the Year executive packing this week after he found clutter in an attic closet.
Creative services assistant Sharon Phalon-Smith, a 10-year employee and former assistant to the news director for five years, was terminated Tuesday without severance pay, she confirmed. Health insurance for her family ends in two weeks.
Rogers had recently sent down an edict saying he wanted the station cleaned up and ordered a mandatory newsroom meeting to make it clear he meant business.
That meeting was at 1 p.m. Dec. 27, a busy news day because of the assassination of Pakistani opposition leader Benazir Bhutto.
Rogers came through the building Monday, and an e-mail was sent out that "he was very happy with the building," Phalon-Smith said.
Then came word that there was an issue with the back attic, where accounting records were kept, along with some of Phalon-Smith's promotional items, she acknowledged.
Phalon-Smith and a co-worker went back and "cleaned it up spic and span," she said.
She was dismissed without explanation a day later. "I've been in tears for days," she said. "I had to tell my kids I was fired."
She broke down during the interview and specifically requested I write that I had called her for comment, not the other way around.
"I was a loyal, loyal employee," she said.
The irony, she added, was that "I gave tours talking about what a great and generous man he was. I was his No. 1 cheerleader."
Rogers was "not available, and he's not going to talk about personnel issues," said KVBC general manager Lisa Poe-Howfield.
THE SCENE AND HEARD
With headliner Danny Gans' 10-year contract with The Mirage expiring next year, I hear he's being courted for an extension. …
Tip of the Week to the Consumer Electronics Show crowd: If you want to see a really impressive TV, check out the ginormous 160-square-foot screen at Jay-Z's 40/40 Club at the Palazzo. It's the ultimate sports bar, with bleacher seating for 200 in front of the screen and dancing areas on the lower level of the 1,800-capacity club.
SIGHTINGS
Michael Jackson and his three children, Prince Michael I, Paris and Prince Michael II (aka Blanket), taking an after-hours tours of Madame Tussauds Las Vegas (Venetian) on Monday night. They showed up about 9:45 p.m. and made stops for photos in front of the wax icons, including Jackson's. He asked to see the newly arrived Evel Knievel figure, which was in the studio where repairs are made. … Jackson's ex-wife, Lisa Marie Presley, in Tao's ultralounge (Venetian) on Tuesday, the 73rd birthday of her late father. … Actor Kevin Costner, spotted dining Monday with a group of 30 at N9NE Steakhouse (Palms). … Legendary rocker Alice Cooper, shopping Tuesday night at Elton's Men's Store at Mandalay Place (Mandalay Bay). … David Caruso of "CSI: Miami," at N9NE Steakhouse on Tuesday night. … "American Chopper" star Paul Teutul Sr., shopping Tuesday at the Hard Rock retail store. … Pamela Anderson, on "The Tonight Show with Jay Leno" on Monday, promoting her new movie. … Members of the Penthouse Pets, delivering a birthday cake to Jet VIP host Marklen Kennedy, at Jet (Mirage). The Pets are in town for tonight's opening of The Penthouse Club just off the south end of the Strip and will be making appearances around town. … Damon Wayans, hanging out at the 40/40 Club (Palazzo) Tuesday night during a Google and YouTube.com party and also at Jet in the VIP section. Also in the Jet VIP section: musician Ryan Cabrera, baseball slugger Frank Thomas, and Jeff Beacher, dressed as Elvis. … At CatHouse (Luxor), checking out the competition: Robert Frey of Pure Management Group, dining at one table; at another: Andy Masi and Andrew Sasson of The Light Group.
THE PUNCH LINE
"Wolf Blitzer wanders on set screaming, 'Top story — daddy's drunk!'" — From David Letterman's Top Ten Signs You're Watching Bad Election Coverage
Norm Clarke can be reached at (702) 383-0244 or norm@reviewjournal.com. Find additional sightings and more online at www.normclarke.com.