'Hey Trev, it's Mom': Slain officer's mother shares stories at funeral
November 25, 2009 - 6:05 pm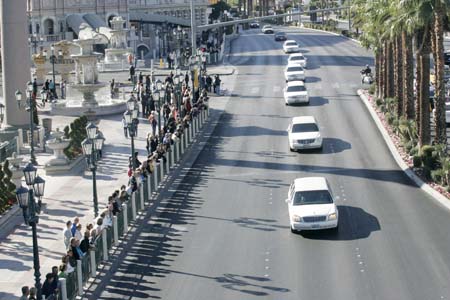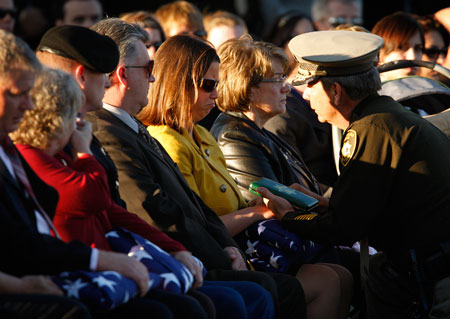 In the company of hundreds of mourners at the funeral for fallen Las Vegas police officer Trevor Nettleton, Deborah Austern gazed at her son's flag-draped casket and spoke directly to him as she had in their weekly phone calls.
"Hey Trev, it's Mom," she said today at St. Elizabeth Ann Seton Roman Catholic Church in Summerlin.
Austern shared stories of her 30-year-old son's life with family, friends and Nettleton's fellow Las Vegas police officers, recalling his upbringing in Washington, his passion for baseball and his desire to become a police officer like his father.
She spoke about his wife and children and how he viewed their North Las Vegas home as a safe haven, a place where he could leave the ugliness, stress and negativity of his profession at the door.
But Nettleton was killed Nov. 19 in a shootout at the home where he felt so secure, after would-be robbers confronted him in the garage. The three-year veteran of the Metropolitan Police Department, who also was a veteran of the Marine Corps, had just finished his patrol shift in the Bolden Area Command, west of downtown Las Vegas. He died from a gunshot wound to the torso.
North Las Vegas police have arrested six suspects in the slaying.
Austern, who lives in Washington, was visiting her son for Thanksgiving when he was killed.
"Trev, I would gladly trade places with you to give you back to Tanner, Quinn and Danielle," Austern said, speaking of her son's children and wife.
As the funeral motorcade neared the church, a stoic group of family and friends joined in and walked behind the police truck carrying Nettleton's casket during the final stretch. A relative carrying 21-month-old Tanner Nettleton led the march. The toddler stared curiously at the rows of officers who saluted his father's casket.
The Las Vegas police officers who worked with Nettleton in the Bolden Area Command escorted the motorcade, which departed Palm Mortuary & Cemetery on Eastern Avenue near Warm Springs Road this morning. The motorcade traveled up the Strip, through downtown and on U.S. Highway 95 and Summerlin Parkway on its way to the church.
Widow Danielle Nettleton hugged and nodded to the officers who passed her in the church. She then kissed her fingertips and pressed it against the casket before the sound of bagpipes signaled the start of the funeral.
"Every time I look at officer Nettleton's photo, I think of how incredibly young he was and how much he accomplished in his life," Clark County Sheriff Doug Gillespie said. "We were only beginning to see what kind of leader he was becoming."
Gillespie recalled how, in 2007, Nettleton was one of the officers who saved two children from a burning apartment complex. He also spoke of Nettleton enlisting in the Marines after high school graduation and serving for nine years, the last two as part of the Presidential Guard Detail.
A man standing on the sidewalk outside the church waved a U.S. Marine Corps flag and saluted the casket when it passed by him.
Las Vegas police officer Larry Rinetti and Nettleton met as young Marines. They soon became the "Dynamic Duo" to their circle of friends, Rinetti said. A group of those friends stood with Rinetti as he spoke at the funeral.
"I didn't want to come up here alone, and (Trevor) wouldn't have wanted me to," Rinetti said. "Listen, I'm not trying to make this a cliché, but Trevor would want this to be a celebration."
He said his best friend was a die-hard Seahawks fan, a big goofball and an honorary member of his family. He pledged to be a surrogate father to Nettleton's children, son Tanner and 6-week-old daughter Quinn.
Rinetti became grim when he spoke of how Nettleton died. He likened the killers to "animals there to attack the sheep" and a "pack against one."
North Las Vegas police named five suspects in Nettleton's slaying: Saul Williams Jr., 20; Emmitt Ferguson, 18; Quadrae Scott, 18; Prentice Marshall, 18; and Adrian Pena, 17.
A sixth arrest was announced today.
Michael Ferguson, 25, was already in custody at the North Las Vegas Detention Center on unrelated misdemeanor charges. He now faces a charge of accessory to murder after the fact, North Las Vegas police said.
North Las Vegas police spokesman Tim Bedwell said Michael Ferguson's arrest was a result of an effort by police to identify those who had a role in trying to cover up evidence related to Nettleton's slaying. He didn't know if Michael Ferguson was related to suspect Emmitt Ferguson.
According to police reports, Marshall, Pena, Williams and Scott were in Pena's car late Thursday when they saw Nettleton's garage door open, and they tried to rob the officer. Marshall, who was wounded in the testicles during the ensuing gunbattle, fired the killing shot, according to police reports.
Marshall, Pena, Williams and Scott are being held without bail on charges of first-degree murder, robbery and conspiracy to commit robbery.
Emmitt Ferguson, who wasn't at the scene of the crime but who police say hid the murder weapon, was charged with accessory to murder. His bail was set at $500,000.
Nettleton's mother refused to dwell on how her son died. She told stories about how he had been a precocious toddler. He grew into a proud father who was filled with glee when he introduced her to her new granddaughter last week. "I'm totally whipped," she recalled her son saying.
Austern also spoke of a tender moment between them just before his death. Nettleton wanted to share his new goals — to go back to school and become a SWAT officer.
She ended her tearful address with the customary mother/son sign-off she and Nettleton used on the phone.
"I love you, Trev," she said. "This is the place you'd say 'I love you, Mom.'"
Contact reporter Maggie Lillis at mlillis@reviewjournal.com or 702-383-0279.