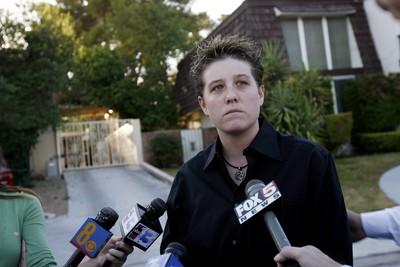 RENO — A tearful Dallas Augustine glanced at her late mother's husband and killer in court Friday.
"After hearing your indifference to my mother's suffering, I know you don't know what it is like being a human being," she told Chaz Higgs, shortly after a jury had convicted him of first-degree murder in the death of former state Controller Kathy Augustine.
"I miss her every day and will miss her the rest of my life," Dallas Augustine, 27, said during a half-hour penalty phase hearing after the verdict. "Nobody ever can take away the pain."
Higgs showed no emotion as Dallas Augustine and others vented their rage over the murder, which prosecutors said Higgs carried out by injecting the often controversial politician with a paralytic drug.
Earlier, a physician, Dr. Pamela Russell, described how people injected with the drug succinylcholine cannot move but remain mentally aware and suffer horrific pain during the six to 10 minutes that pass before they die.
Dallas Augustine said her only solace was knowing Higgs, 43, might spend the rest of his life behind bars.
Her hope was short-lived. Just before 5 p.m. Friday, the jury of eight women and four men decided that Higgs' sentence would be life imprisonment with the possibility of parole after 20 years.
District Judge Steven Kosach then confirmed the sentence, ending the 10-day trial that was temporarily suspended for two days this week after Higgs slashed his wrists in what his attorneys described as a suicide attempt.
Dallas Augustine bolted from the courtroom after the jury's sentence was read.
Phil Alfano, Kathy Augustine's brother, said he intends to live long enough to make sure Higgs is never released from prison.
"I am happy with the guilty verdict," he said. "But I am not happy with the possibility he could be paroled in 20 years. I plan to be around. If I am no longer alive, my daughters and nephews will make sure he never gets out."
Family members and crime victims may speak at Parole Board hearings.
Higgs mouthed "Love you" to his father, William Higgs, as deputies removed him from the courtroom.
"Love you so much, son," William Higgs replied.
Higgs, a critical care nurse, was convicted of injecting Augustine, 50, with succinylcholine in the bedroom of their Reno home July 8. The drug usually is found in hospital emergency rooms.
Augustine died three days later at Washoe Medical Center in Reno after family members decided to cut off life support systems.
Registered nurses testified during the trial that a nurse could walk undetected out of a hospital with succinylcholine and any other drug.
Higgs had worked in the emergency room at Washoe Medical's South Meadows branch for 2 1/2 years before the death of Augustine. Work colleagues described Higgs as an excellent nurse who had saved many patients' lives.
He told the media she had suffered from a massive heart attack brought on by the stress of her campaign for state treasurer.
Higgs' Marine Corps veteran father pleaded with jurors to give his son a chance at parole.
"Every person is entitled to hope," William Higgs said during the penalty phase hearing. "If you don't give him some hope, the next time I come here will be for his funeral."
Both of Higgs' lawyers, David Houston and Alan Baum, expressed concern that Higgs might succeed in a suicide attempt while in prison.
Besides the wrist-slashing Tuesday, he also slashed his wrists July 14 in Las Vegas. He was briefly hospitalized and then did not attend Augustine's funeral.
Outside court Friday, Houston said he is considering an appeal based on the grounds that Kosach rejected his request to postpone the trial. Houston said he had wanted more time before the trial began to examine the medical evidence.
Besides pleading for his son, William Higgs offered his apologies to the Augustine-Alfano family. Many members of both families attended every session of the trial.
Kay Alfano, Kathy Augustine's mother, also expressed her sympathy to members of Higgs' family.
Both families are Catholic, and William Higgs said he would recite the rosary for Kathy Augustine the next time he attends Mass.
While Chaz Higgs testified he loved Augustine and did not kill her, prosecutor Thomas Barb produced witnesses who said Higgs told them that if it had not been for his 10-year-old daughter, Desiree, he would have killed Augustine and "thrown her down a mine shaft."
After the verdict, Barb said he would not have had a case against Higgs except for quick thinking by nurse Kim Ramey.
While working together at Carson-Tahoe Hospital, Ramey and Higgs discussed marital problems. Ramey mentioned she had read about Darren Mack, the Reno pawnshop owner arrested in the stabbing death of his wife and the shooting of District Judge Chuck Weller. According to Ramey, Higgs told her Mack had done it all wrong. She said Higgs told her Mack should have "hit her with a little (succinylcholine) since it can't be detected in post-mortem tests."
After learning of Augustine's hospitalization, Ramey called doctors and the Reno police and told them about her conversation with Higgs.
Although Dr. Ellen Clark, the doctor who performed an autopsy on Augustine on July 12, did not find a cause of death, samples of her urine were sent to the FBI's National Crime Laboratory. In late September, FBI chemists said they had found succinylcholine in Augustine's urine.
Higgs then was arrested and charged with her murder.
Barb described Higgs during cross-examination Thursday as a cruel sociopath interested only in Augustine's money. While Augustine lay dying in Washoe Medical Center, Higgs was out signing papers to make sure he received her $1,100-a-month state pension, according to Barb.
Barb also showed that Higgs wrote dozens of e-mail love letters to other women during their marriage, and that within a few weeks after Augustine's death, he asked three women to move in with him.
Like Augustine, Higgs had been married four times. Higgs testified that Augustine's friends thought he was "eye candy" and other nurses described his new wife as a jealous woman who sometimes showed up at hospital emergency rooms to harass his colleagues and confront women with whom Higgs corresponded.
In addition to her political setbacks — Augustine became in 2004 the first official in Nevada history to be impeached — Augustine also suffered personal tragedy. Her third husband, Charles Augustine, suffered a stroke in June 2003. Even though they had been separated for about five years, Kathy Augustine went to Charles Augustine's bedside when he was hospitalized at Sunrise Hospital and Medical Center in Las Vegas.
Chaz Higgs, then a newly licensed registered nurse who had spent 15 years as a medical corpsman in the Navy, was one of Charles Augustine's nurses at Sunrise.
During testimony this week, Higgs said he was one of several nurses who cared for Charles Augustine. Kathy Augustine sent thank you notes to each nurse but somehow forgot him.
When she recognized her omission, she invited him to coffee, Higgs said. That began a whirlwind romance. They were married three weeks later in Hawaii.
After Higgs' arrest, Charles Augustine's body was exhumed. Augustine's relatives had raised suspicions that Higgs might have killed Charles Augustine with succinylcholine. Tests determined Charles Augustine died from complications from a stroke. Higgs has not been charged in his death.
KATHY AUGUSTINE DEATHNews, information