'High Roller' star loving limelight
September 13, 2012 - 1:09 am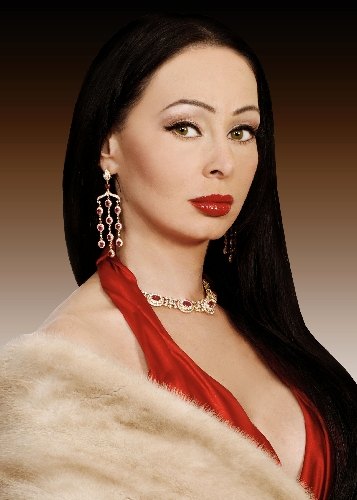 Addicted to reality TV villains? Odds are good you'll love or loathe Russian diva Lana Fuchs of TLC's "Vegas High Rollers."
She's clearly running out of friends after storming out of a cocktail reception during a weekend film shoot.
Just three weeks into a three-month shoot with the local socialites, the fireworks erupted Friday when the fashion designer's cast mates, concerned about her bad-mouthing, confronted her to clear the air.
Fuchs walked out, with cameras – and eyes – rolling.
"She seems to have an issue with everybody," a source said.
Fuchs appears to love the attention. At their opening shoot at the Hard Rock Hotel's pools, she arrived with an entourage of little people and bodyguards for the Black and White Party, an AIDS benefit.
Fuchs, who grew up in Brooklyn, N.Y., after leaving Russia, is the founder of Billionaire Mafia and Lana Fuchs Couture.
Billionaire Mafia has been a hit with the hip-hop crowd and club scenesters.
The shooting has been taking place throughout the city, from staid Las Vegas Country Club to restaurant hot spots Firefly and Marche Baccus to Rain nightclub at the Palms for a pole dancing expo. 
DEL REY EYES REBOUND
U.S. singer-songwriter Lana Del Rey, looking to get back on track after a disastrous "Saturday Night Live" debut in January, has been shooting a music video in and around Las Vegas for her new CD.
Del Rey was riding a wave of hype a year ago. Then came her rocky "SNL" debut that critics savaged. One called it "zombie-like."
Del Rey's comeback campaign has already started months in advance of the November release of "Paradise."
She is the cover girl as Woman of the Year in the October issue of British GQ magazine.
Video shoots took place at the Valley of Fire on Monday, the Clarion Hotel's showroom on Sunday and at various downtown hotels. Extras were wearing biker gear and rode motorcycles. It's the video for her single titled "Ride," a track for her upcoming album. 
A New Yorker who started singing in clubs at 18, she billed herself as a "self-styled gangsta Nancy Sinatra." The music video for her 2011 single "Video Games" made her an Internet sensation at 25.
THE SCENE AND HEARD
Legendary illusionists Siegfried & Roy mark their ninth year as honorary keg tappers for Oktoberfest when they kick off the six-week celebration at 7 p.m. Saturday at the Hofbrauhaus Las Vegas.  
SIGHTINGS 
Jim Belushi of "Saturday Night Live" fame, having a cigar and mojitos at Casa Fuente (Caesars Palace) on Wednesday. … Susaye Greene, known as "The Last Supreme," taking in Human Nature (Imperial Palace) on Tuesday night. Greene, who turns 63 today, replaced Cindy Birdsong in 1976 and was part of their last two albums before the legendary group disbanded in 1977 after a 17-year run.  
THE PUNCH LINE
"O.J. Simpson is claiming that Khloe Kardashian is his daughter. He makes the claim in his new book called 'The Only Thing I'm Ashamed Of.' " – Conan O'Brien
Norm Clarke can be reached at 702-383-0244 or norm@reviewjournal.com. Find additional sightings and more online at www.normclarke.com. Follow Norm on Twitter @Norm_Clarke.