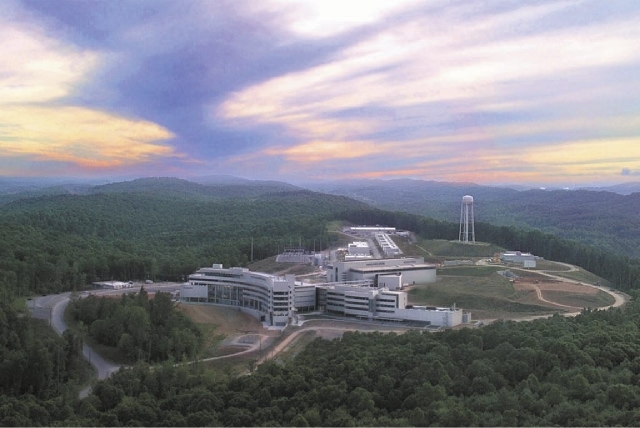 WASHINGTON — Shipments of highly radioactive uranium waste from Tennessee to Nevada would be carried out in stealth and under armed guard, according to a transportation plan confirmed Tuesday.
The government Office of Secure Transportation would be assigned the job of transporting 403 canisters containing bomb-usable nuclear material destined for burial in the Area 5 landfill at the Nevada National Security Site 65 miles northwest of Las Vegas, officials said.
The material originating at the Oak Ridge National Laboratory would be shipped aboard secured tractor trailers, escorted by armed guards in unmarked cars and vans, and tracked in real time by a communications system based in Albuquerque, N.M. The schedule and routes for the shipments would not be publicized.
State officials from Nevada had urged the department to provide stringent security for the shipments, either by employing strict protocols used to ship nuclear weapons components or by allowing the highway patrol to inspect and accompany the trailers on state roadways.
Although classified as low-level nuclear waste, its ingredients include uranium isotopes that are highly radioactive and could be used to manufacture a "dirty bomb." The unusual material consists of man-made uranium-233 commingled with uranium-235, the atom-splitting isotope used in the first U.S. nuclear bomb, and biologically harmful uranium-232.
Energy Department officials in Washington did not respond to queries Tuesday about strategy for the shipments, which were expected to start this summer and continue through August 2014. DOE executives are scheduled to brief state and local officials about the transportation and disposal of the uranium waste at a meeting Wednesday at the department's office in North Las Vegas.
Bob Halstead, director of the Nevada Agency for Nuclear Projects, said Tuesday he expects to hear the DOE will employ high security for the shipments, but "I want to give them the benefit of the doubt to say what they're going to say."
DOE officials also are expected to provide further information about the burial program for the waste, which would arrive in steel canisters and be placed in trenches deeper than 40 feet where the government buries other contaminated material.
Robert Alvarez, a former Department of Energy adviser and a Washington-based nonproliferation expert, has said burying the highly radioactive uranium waste in the landfill would set a bad precedent leading to the disposal of more dangerous material at the Nevada site.
Rep. Dina Titus, D-Nev., who has written a book about Nevada's relationship with what used to be called the Nevada Test Site, also has expressed concern the uranium waste would be "the nose under the tent" for disposal of more exotic material.
Following a recent personal DOE briefing, Titus in an interview said she doubted the uranium disposal could be stopped but "what we have to fight for is to make sure it is secure. The most I can do is be sure we know where it is going, how much is going there, when it is going there and what they are doing about it once it gets there."
Gov. Brian Sandoval has yet to give his view on disposing of the uranium waste in the landfill at the national security site. Sen. Harry Reid, D-Nev., has said the disposal plan was not as threatening as the once-proposed Yucca Mountain high level nuclear waste project, and has advocated not fighting the DOE over it.
Contact Stephens Washington Bureau Chief Steve Tetreault at stetreault@stephensmedia.com or 202-783-1760. Follow him on Twitter @STetreaultDC.