High-ticket shows sell, expert says
November 11, 2008 - 10:00 pm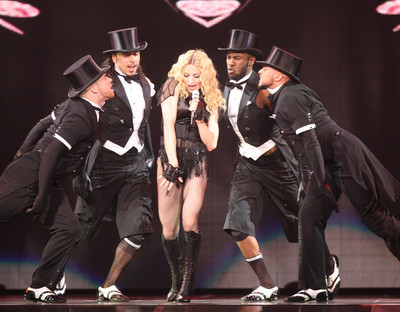 If you went to Madonna's concert on Saturday or Sunday at the MGM, you noticed the shows were near sellouts. That's pretty crazy, considering the Strip has taken financial hits lately.
But one of Las Vegas' resident experts on the entertainment scene — Ken Solky of LasVegasTickets.com — says Madge's big crowds made sense to him. Why? Tourists and locals are still spending money on high-ticket entertainment — concerts, showroom shows, nightclubs and restaurants — as long as they're perceived as high-quality outings.
"I think more people would rather go to a Jimmy Buffett or a Madonna and pay full price, or a premium, than go to a time share giveaway, because their time here is limited, and their dollar is limited, so they want to get the most entertainment for the money," he says.
"Jimmy Buffett (in October) and Madonna were two very bright, shining stars in what might otherwise be difficult times."
Shows taking bigger hits are: A) not very good; or B) showrooms that are scheduling too many shows during the week, diluting their audiences; and/or C) shows overpriced compared to their quality.
People realize, he says, "just because something is cheap or half price doesn't mean it's the best value."
As proof, he mentions Cirque du Soleil's pricey "O" show is doing great, because it's "still the best Cirque show." Also doing well: Bette Midler and Cher at Caesars, and George Lopez pulled them in at the Hilton over the weekend.
Even Cirque is restructuring prices, offering $49 tickets to see "Ka," "Mystere" and (my pet-favorite Cirque show) "Zumanity."
Nightclubs are resorting to two-for-one bottle specials, says Solky, who sells table and bottle packages for clubs. A year ago, people with corporate credit cards would go to Tryst one night, the Palms another, and Tao a third, he says.
"A year ago, they'd go to all three," he says. "Now, they're (saying), 'Well, there's so many good clubs, let's pick one.'
"They don't have those corporate credit cards to use right now. They might not even have a job."
Even boxing matches have had surprisingly lowered attendances, he says.
"The first two quarters of '09, you're going to see the same thing until we see President-elect Obama into office, and you get him working on all of his ideas," he says.
His predictions for money-making events on the horizon are MGM-heavy: Saturday's UFC fight at MGM; MGM's Dec. 6 boxing match between Oscar De La Hoya and Manny Pacquiao; National Finals Rodeo in December; the Jonas Brothers Nov. 29 at MGM; the comedy festival at MGM Nov. 20-22; and Neil Diamond at MGM at the end of the year.
His advice to Vegas:
"Venues, producers and promoters need to stick to a tried-and-true formula of offering good product at a fair price — (shows that aren't) overdone: not too saturated with amount of performances and high prices."
MORE MADONNA
Check out my VegasLand blog at reviewjournal.com for photos of Madonna and her fans; my take on Madonna in concert; and photos of guys riding bucking bulls at the Professional Bull Riders World Finals.
crave jason mraz?
Quite a few women keep asking me if Jason Mraz is on the singles market, and they want to know where they might run into him when he's in town this weekend, performing Saturday at the Palms.
So here's your inside information. He plans to see Penn & Teller and "O" this weekend, although he didn't tell me which showtimes.
The singer-songwriter asked me to ask fans to go to his site and submit personal photos to be shown on video screens at his concert.
He's looking for images of fans, their families or "things they love about living where they live."
Doug Elfman's column appears Sundays, Mondays, Tuesdays and Fridays. Contact him at 702-383-0391 or delfman@reviewjournal.com. He blogs at reviewjournal.com/elfman.