Higher education emerging as legislative priority
November 12, 2015 - 7:31 pm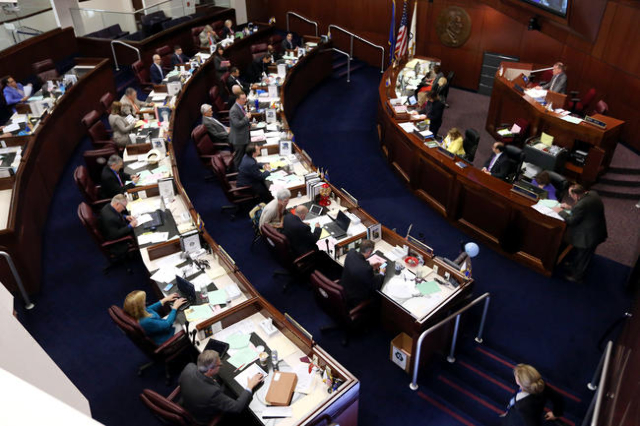 Higher education reform is emerging as a key priority among Southern Nevada leaders as they begin drafting a policy agenda for the upcoming legislative term in Carson City.
With a session this year that yielded sweeping changes to Nevada's ailing public school system, local lawmakers now seem to be joining Gov. Brian Sandoval in shifting their attention to improving colleges and universities. Lawmakers won't meet in Carson City for more than a year, but workforce development is already shaping up to become a top focus, driving the governor's signature issue: diversifying Nevada's tourism-dependent economy.
Potential changes to the state's postsecondary education system were a popular theme Thursday at a brainstorming session attended in Las Vegas by about 150 community stakeholders, business leaders and elected officials who gathered to help craft a policy agenda for Southern Nevadans in the 2017 Legislature.
A spokeswoman for the governor said he was pleased to hear the group was assembling a "vision of building premier and high-impact universities and a community college system that will produce a world-class workforce," noting that Sandoval has met privately with representatives from the Nevada System of Higher Education within the past month to discuss his plans to make postsecondary education a top priority in 2017.
"A number of legislators have said that the 2015 session was about K-12, and then we'd close the loop in 2017 with higher education," said Sondra Cosgrove, a professor at the College of Southern Nevada who was among those chiming in during Thursday's Southern Nevada Forum. "If you look at the way the economy is today, most jobs require at least a certificate or an associate's (degree). It's not enough to reform K-12, because they're all going to need higher education eventually."
Led by a bipartisan group of local lawmakers that included Assemblywoman Olivia Diaz, Clark County Commissioner Marilyn Kirkpatrick and Assemblyman Derek Armstrong, Thursday's free-form meeting drew input on a broad range of topics that included education, transportation, healthcare and workforce development. Among dozens of education-related topics raised by the group were possible changes to the state's higher education funding formula, its governance system for community colleges and its educator pipeline.
"We just want to see what groups might have been left out in the last legislative session," Diaz said. "We want to let ideas pour in and continue to meet as subcommittee groups form accordingly."
It's too early to know what the group's ultimate priorities will be, but education insiders say workforce development is shaping up to be a big focus in Southern Nevada as Gov. Brian Sandoval continues efforts to wean the economy off tourism.
"I think a lot of people in Nevada are realizing that improving higher education is the key to improving economic development and attracting top companies," said Trevor Hayes, who sits on the Board of Regents of the Nevada System of Higher Education. "Higher education can play a role in so many areas that Nevada can improve on, whether its health with the medical school or economic development — you can go down a long list."
The forum, which met for the second time this year, will reconvene in the coming months to distill community input and draft a clearer vision for lawmakers.
Contact Ana Ley at aley@reviewjournal.com or 702-224-5512. Find her on Twitter @la__ley.