Highlights of Senate's Benghazi report
January 15, 2014 - 4:44 pm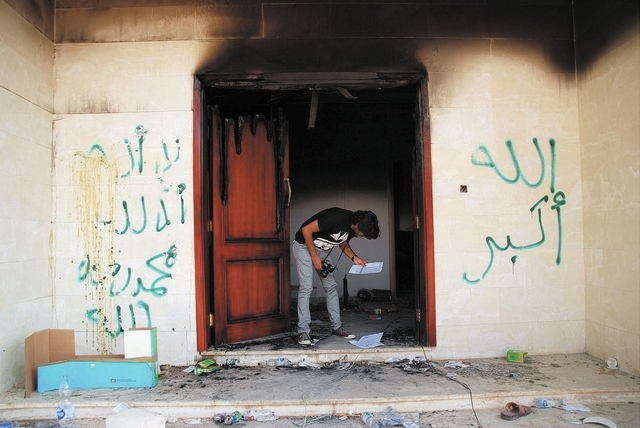 Some main points of the Senate Intelligence Committee report on the terrorist assault on the diplomatic compound in Benghazi, Libya:
— Ambassador Chris Stevens, who was among those killed that night, had twice in the weeks before the attacks declined the U.S. military's offer of a team of special operations forces that had been available to bolster security and provide other help. The State Department had decided not to request an extension of the team's presence, about a month before the attacks, because officials thought the job could be done by local or department security.
— The report recommends that only in rare cases should a diplomatic facility continue to operate if it falls short of the State Department's security standards — and in such cases the facility should have the personnel, weapons and fire safety equipment needed to address the threat. The State Department should be ready to evacuate or close diplomatic missions facing the highest threat, the report says.
— The report recommends that the intelligence community expand its work to analyze social media used by extremists, noting that little of that was done before the attacks and it's possible there were hints in web postings of trouble ahead.
— Operations in Benghazi continued with little change even though the mission crossed some "tripwires" that should have led to reduction in personnel or the suspension of operations. Some nations closed their diplomatic facilities because of worsening security conditions in the summer of 2012. But others stayed, contrary to reports the U.S. was the last country represented there.
— An unarmed U.S. military drone was not delayed when responding to the attack, and it provided important information during the attacks.
— Based on limited intelligence, analysts inaccurately referred to the presence of a protest at the mission before the attack, and they didn't corroborate the information. The intelligence community took too long to correct the erroneous reports, causing confusion and leading government officials to make incorrect public statements.
— The U.S. government must not rely on local security in areas where its facilities are under high threat or where the host nation is not capable of providing adequate security. The report said the committee supports the State Department's initiative to work with the Pentagon to expand the Marine Security Guard Program to increase protection at high-risk facilities beyond just the protection of classified information.