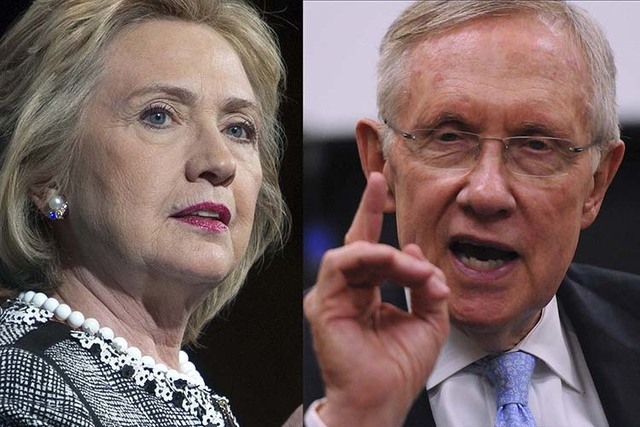 WASHINGTON — Hillary Clinton will be squeezing in another stop in Las Vegas on her way to speak at the UNLV Foundation Dinner next month.
Clinton will be the headliner at an Oct. 13 reception and dinner to raise money for the Nevada Democratic Party and for the re-election fund of Sen. Harry Reid.
An invitation was posted to the website of the "Reid Nevada Fund," a fundraising entity established by Reid and the state party.
The unannounced but presumed Democratic candidate for president is booked that evening to deliver the keynote speech at the annual fundraising dinner at the Bellagio for the University of Nevada, Las Vegas.
Her contract calls for her to appear at 7 p.m. for a photo session with dinner guests who bought premium $20,000 tickets, followed by a 7:30 p.m. to 8:30 p.m. speech and question period.
The location and time for the Nevada Democrats' event was not announced, according to the posted invitation.
A "VIP dinner and photo" was listed for $10,000 per person and $15,000 per couple. A reception-only ticket costs $1,000.
The UNLV Foundation is paying $225,000 for Clinton's appearance, a sum that provoked broad debate as to its size and its payment to a leading political figure.
The money will go to the Bill, Hillary &Chelsea Clinton Foundation, which supports programs on global health, climate change and opportunities for women and girls.
UNLV officials say they have sold out the high-dollar dinner seats, which brought in $353,000.
The annual event is expected to turn a profit for only the third time in its history.
Clinton's usual fee for similar events is $225,000 plus chartered jet travel and hotel expenses, according to documents obtained this summer by the Review-Journal.
The former secretary of state and U.S. senator charged UNLV $225,000 inclusive of travel.
It was not clear if Nevada Democrats are picking up any part of Clinton's travel costs to Las Vegas. Representatives for Reid and the state Democratic Party did not comment.
Clinton last appeared in Las Vegas on Sept. 4, when she spoke at the National Clean Energy Summit organized by Reid, UNLV and MGM Resorts. There were no reported political events on that visit.
Contact Stephens Washington Bureau Chief Steve Tetreault at stetreault@stephensmedia.com or 202-783-1760. Follow @STetreaultDC on Twitter.