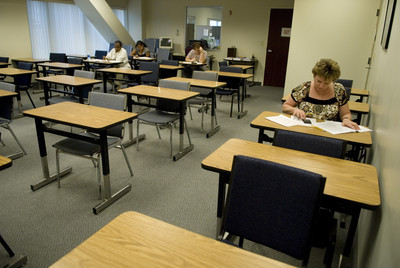 CARSON CITY — Federal, state and local government employers in Nevada have added a modest 300 jobs in the first three months of 2008, bucking a trend seen nationally.
Total government employment in Nevada in March was 163,100, compared with 162,800 government workers in December, according to statistics prepared by the Nevada Department of Employment, Training and Rehabilitation. The change represents an increase of less than two-tenths of a percent.
Nevada, where the state and its local governments are dealing with revenue shortfalls, does not appear to be part of a nationwide government hiring boom.
USA Today reported Wednesday that federal, state and local governments nationwide are hiring new workers at the fastest pace in six years, helping offset job losses in the private sector.
Governments added 76,800 jobs in the first three months of 2008, according to the U.S. Bureau of Labor Statistics.
But while overall Nevada government employment might not be growing by gangbusters this year, it has increased even while overall employment has declined, the state employment numbers show.
Overall in Nevada in 2008, the number of jobs has declined a little more than 1 percent while government jobs rose by about 0.2 percent.
The trend holds true for the past 12 months, where it is more pronounced.
In the 12 months dating to March 2007, overall job growth declined by 0.3 percent. During the same period, government employment grew by 2.9 percent.
Jim Shabi, an economist with the state Employment Department, said much of that growth is the hiring of more teachers to accommodate growing public school and higher education enrollments.
"Yes, government employment is growing faster than overall employment," he said. "Most of that growth is in local government, and most of that very likely is growth in the local school districts."
The numbers for the first three months of the year show a decline in federal government jobs in Nevada, from 17,000 in December to 16,600 jobs in March.
For the state — which includes the higher education system and where a job freeze is in place for all but critical positions because of budget problems — a slight decline has occurred too. There were 38,800 state jobs in December and 38,400 jobs in March.
But job growth has occurred at the local government level. There were 107,000 such jobs in December statewide. That had increased to 108,100 jobs in March, a growth rate of a little more than 1 percent.
For Clark County's local governments, job growth this year is ahead of the state as a whole. Clark County had 72,800 local government jobs in December, growing to 73,800 by March for a 1.4 percent growth rate.
Overall jobs in Clark County declined by just under 1 percent from December to March to 925,000.
Dan Kulin, a public information officer for Clark County, said a longer-term view shows employment at the county has declined compared with the population as a whole.
"Our staffing levels have dropped from 3.6 per 1,000 residents in 1997 to 2.5 per 1,000 residents in 2007," he said.
"As a local government, we are among the leanest in the country. The demand for services continues to outpace the growth in staff. More than half of any new positions here have gone to public safety and judicial services like the Fire Department and the courts."
Government agencies also face greater demands for services when the economy flattens, Kulin said.
Keith Schwer, director of the Center for Business and Economic Research at the University of Nevada, Las Vegas, said an increase in federal employment should come as no surprise.
"The federal government borrows money and continues to grow," he said. "States have to balance their budgets."
But Schwer said the numbers should be viewed with some skepticism. Analyzing data over such a brief period of time could reflect issues of data measurement rather than actual trends, he said
But for Schwer, even if the trend in Nevada is correct, the real issue is not the modest growth in government sector jobs but the anemic growth in private sector employment.
"The story is, we're one of those states that is out of whack on housing," he said. "We're now seeing that spill over into the other economic sectors."
Contact Review-Journal Capital Bureau reporter Sean Whaley at swhaley@reviewjournal.com or 775- 687-3900.