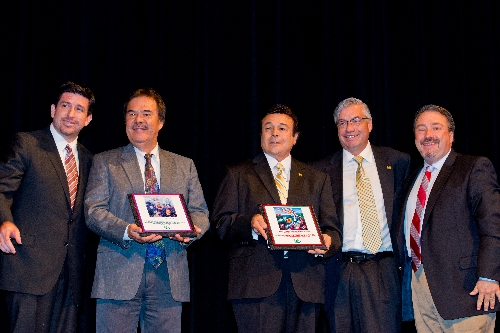 On Aug. 17, Nevada State College and the Las Vegas Latin Chamber of Commerce co-hosted a two-part workshop and luncheon to discuss the next phase of the college's mission to become a federally designated Hispanic Serving Institution.
"NSC has always worked to serve a diverse student population as a reflection of our community in Southern Nevada," said NSC President Bart Patterson. "Working to become a HSI is our next step in advancing this mission – a step that will benefit our entire campus community."
A title awarded through the U.S. Department of Education, institutions become eligible to apply for HSI status after maintaining a 25 percent or higher Latino student enrollment for two consecutive years.
"NSC was recently identified as a Minority Serving Institution as well as an Emerging Hispanic Serving Institution; an indicator that we are well within our reach," continued Patterson. "We are proud of our progress and energized to achieve our goal of reaching 25 percent Latino student enrollment by 2014."
Approximately 27 percent of the population in Nevada is Latino, including 53 percent of kindergarten through fifth-grade students within the Clark County School District. NSC currently serves a Latino population representing nearly 20 percent of its student body.
Funding prospects made available to HSIs through the DOE are intended for the expansion of educational opportunities and academic success for Latino students, low-income students as well as institutions as a whole.
"HSIs are eligible for U.S. Department of Education grants in such areas as educational and research equipment, curriculum development, enhancement of community outreach, faculty development, renovation and campus facilities, student support services, and student scholarships and grants," said Dr. Edith Fernandez, director of student success and senior adviser to the president for diversity initiatives.
This summer, more than $12 million was awarded to HSIs across the country with a total of $100.4 million distributed throughout the entire year.
Held at the South Point, the HSI workshops were combined with the monthly Latin Chamber of Commerce luncheon.
"The Las Vegas Latin Chamber of Commerce is committed to working directly with NSC to create a strategic plan leading toward the organization's designation as a Hispanic Serving Institution," said Javier Trujillo, chairman of the Latin Chamber.
Through a cooperative agreement with the college, the Latin Chamber plans to secure additional scholarships and resources that will benefit NSC students and help them succeed academically.
"The LCC will identify further partnerships with the Southern Nevada business community that will provide placement of NSC interns and graduates," Trujillo said.
During the event, NSC administration and faculty members presented the institution's objectives and goals in session one, followed by a roundtable discussion led by community, business and legislative leaders. Session two panelists addressed the need to serve the growing Hispanic population as well as the overall importance of higher education.