'Historically dry' February could lead to first-ever shortage declaration at Lake Mead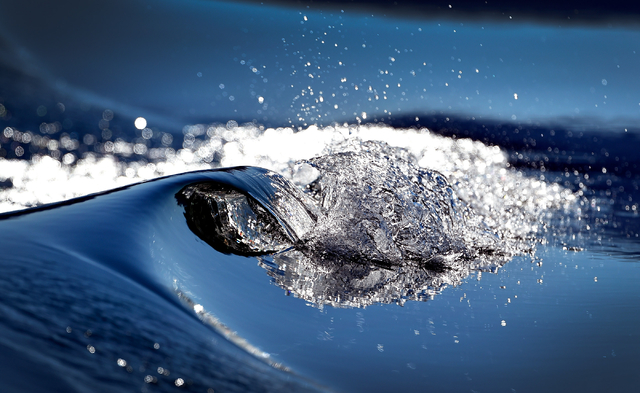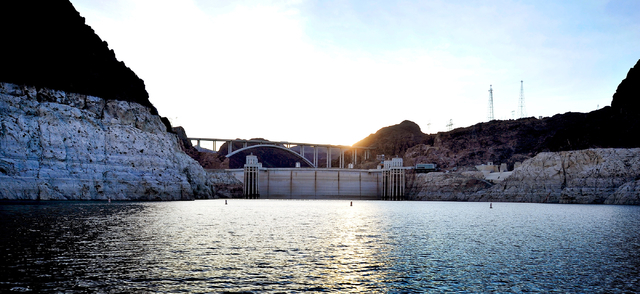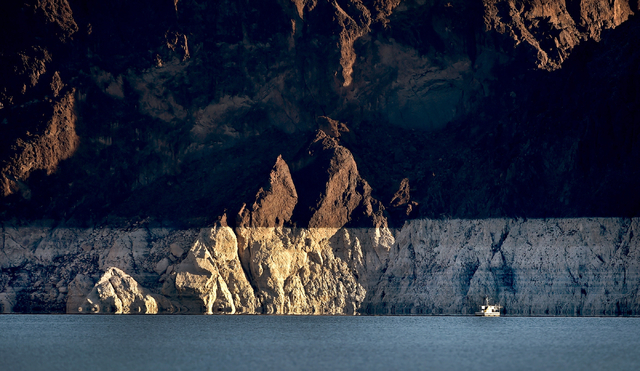 Federal forecasters have downgraded their projections for the Colorado River after an unusually hot, dry February that has increased the likelihood of a first-ever shortage declaration at Lake Mead.
Forecasters are now predicting the arrival of shortage conditions at the nation's largest man-made reservoir in January 2018.
Just a month ago, forecasters expected Lake Mead to narrowly avoid the shortage line for at least the next two years. But Paul Miller, a senior hydrologist with the National Weather Service's Colorado Basin River Forecast Center in Salt Lake City, said that all changed after a "historically dry" February in the mountains that feed the Colorado.
Some monitoring sites in the region logged their lowest February precipitation totals on record, Miller said.
"And we were doing so well," he said.
In early February, federal forecasters were predicting that the Colorado would carry about 94 percent of its average flow during the all-important April-July time frame, when mountain snowmelt collects in Lake Powell on the Utah-Arizona border.
That estimate has dropped to 80 percent of average in the latest forecast released Monday by the U.S. Bureau of Reclamation, which now expects Lake Mead to shrink just enough to start 2018 below the all-important shortage line.
A federal shortage declaration would force Nevada to reduce its Colorado River water use by 4 percent while Arizona and Mexico take larger cuts.
The Las Vegas Valley draws 90 percent of its water from Lake Mead. According to the Southern Nevada Water Authority, a 4 percent cut won't impact the community because residents have already reduced their water consumption by about 30 percent in response to the drought.
The worsening outlook for this year comes despite a powerful El Niño some predicted would soak the Southwest and improve conditions on the Colorado. Instead, Miller said, the Pacific Ocean climate pattern has soaked the Pacific Northwest and delivered some snow to the Sierra Nevada range in California and Northern Nevada.
"It's been a very atypical El Niño event," he said.
Barring a sudden turnaround, 2016 will mark the 13th year of below-average flows on the Colorado River since 2000.
In March of that year, Lake Mead was close to full with a surface elevation of 1,211 feet above sea level. The surface of the reservoir has fallen almost 130 feet since then, and forecasters expect it drop another 10 feet by this time next year.
What's happening on the river comes as no surprise to Connie Woodhouse, a researcher from the University of Arizona in Tucson.
She just authored a report, published last week, that shows a strong link between higher temperatures and reduced flows in the Colorado.
Woodhouse and company found that over the past three decades or so, average temperatures in the upper Colorado River Basin have been increasing during the March-through-July "runoff season," and that can have a significant impact on how much water ends up in the river.
"What we're seeing since the 1980s is that temperature plays a larger role in stream flow and in exacerbating drought," Woodhouse said.
The study, based on data from from 1906 to 2012, was co-authored by Stephanie McAfee of the University of Nevada, Reno and scientists from the U.S. Geological Survey and the University of Arizona's Laboratory of Tree-Ring Research.
Their findings were published online in the journal Geophysical Research Letters on Wednesday , just in time for the river to live up to their expectations.
"This is the reality. It's not a projection," Woodhouse said. "This is what's happening."
Contact Henry Brean at hbrean@reviewjournal.com or 702-383-0350. Follow @RefriedBrean on Twitter.